Ellie Black, of Halifax, Nova Scotia, came to the gymnastics world championships in Montreal as one of Canada's best, now she wants to take her place as one of the world's best.
The 22-year old, whose favourite apparatus is the vault, is hoping to mount the podium in front of the home-crowd at the sold-out event.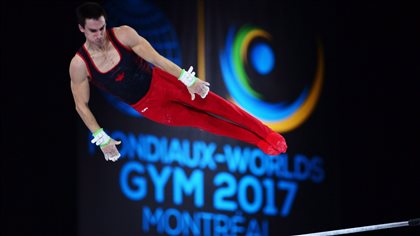 A student at Dalhousie University Black is studying Kinesiology.
"My goal in any competition is to be strong and confident and attack my routines the best I possibly can. I was very pleased with my performances [on Tuesday]," Black said after the first day of qualifying.
"It was such an amazing feeling"
As for the men, Canada's Zachary Clay finished 21st in the men's all-around competition last night.
And while it was tight race for first, among the top-5 men, China's Ruoteng Xiao took it in the end.
His countryman Chaopan Lin took the silver and Kenzo Shirai of Japan took the bronze.
Clay, 22, from Langley, British Columbia, performed best on the pommel horse with a 9th position finish.
And determined to go six for six in the finals, Clay was pleased with the day: "I was so happy with the result today. The crowd today especially was phenomenal. Every event – right before I presented, and right after the crowd was just going crazy and it was amazing."
"The biggest highlight for me was rings – right as I landed that last dismount – the feeling, I just can't describe it. It was such an amazing feeling hitting 6 for 6 in the all-around finals at worlds, and that it was in Canada, was just an added bonus." he told reporters yesterday.
With files from CBC