'Come From Away', the Canadian musical that's become a major hit on New York City's Broadway, has another honour to add to its collection.
It is now nominated for an American Grammy Award for best musical theatre album.
"There's been a lot of very excited cheering going on"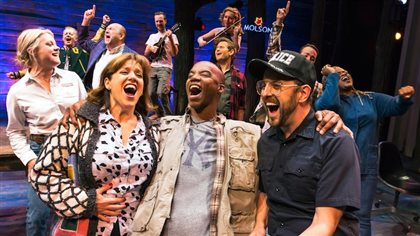 Co-written by Irene Sankoff and David Hein, the married couple who were inspired by the response of the people in Newfoundland to the tragedy of September 11th, 2001.
"Wake up, Grammy nominee," Hein greeted Sankoff after returning home from taking their daughter to school .
"There's been a lot of very excited cheering going on." Hein told the Canadian Press in a recent interview.
Come From Away is the heartwarming story of the welcome and the treatment 7000 airline passengers and crew received, when their planes were grounded in Gander, Newfoundland on September 9th, 2001.
The nomination is particularly special for Sankoff and Hein, as the original cast recording was completed last December, while they prepared for their Broadway debut, and juggled other events.
"We'd just got back from Gander and were so exhausted and so focused and so stressed," Sankoff said.
The Grammys, as the televised event is known, will celebrate the 60th anniversary of the awards in New York City on January 28, 2018, rather than at the usual venue in Los Angeles.