The Canadian Museum of Human Rights, in Winnipeg, Manitoba, honoured Melanie Gray's photo, called 'The Next Generation', with the People's Choice award.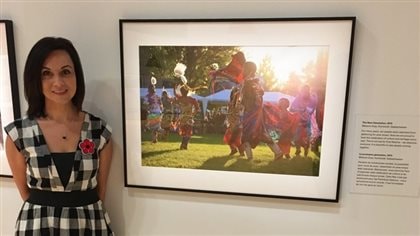 Gray, from Humboldt Saskatchewan, took the photo, of young girls pow-wow dancing at the Rama First Nation in Ontario.
It is Gray's home community.
70 photos were chosen from nearly 1,000 entered from across Canada, to be included in the museum's 'Points of View' exhibition.
It is one of four exhibits at the museum to honour the country's 150th anniversary in 2017.
In a press release, Gray said, "One of my favourite things about photography is the ability to tell a story without uttering a single word."
The photo was one of 1,300 Gray took on August 20th, at the 2015 Pow-wow.
Gray said this photo stood out for her because in it she could see healing, and hope.
"Not that long ago our children weren't able to practise their culture, our elders weren't able to, no one was able to, and you see these girls and they're dressed in their traditional dress, they're outside and they're celebrating." Gray told CBC.
The exhibit runs at the CMHR until February 4th, 2018.
With files from CBC Radio's Saskatoon Morning