Ship flouted the mandatory speed limit imposed last August in the Gulf of St. Lawrence in an effort to protect the North Atlantic right whales.
14 ships were fined the minimum of $6000 (CDN) out of the 542 that were reported in 2017.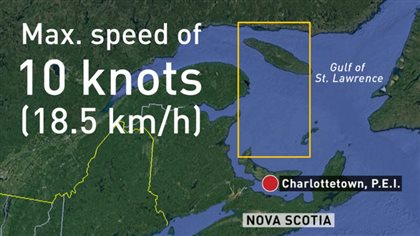 The whales, at least 17 of them, washed up on Canadian and U.S.shorelines over the last two years.
Speed restriction lifted for the winter
Necropsies revealed that blunt force trauma from collisions with ships were the cause of death in 4 out of 7 carcasses.
The other three are believed to have gotten entangled in fishing nets.
North Atlantic right whales are an endangered species with an estimated 500 remaining in the world.
Transport Canada imposed the law, that ships of 20 metres or more, in length, could go no faster than 10 knotts (approximately 18.5 kilometres an hour) while in the western area of the gulf.
A Transport Canada spokesperson said the majority of the 542 cases were "closed due to insufficient evidence"  but Julie Leroux said 44 cases are "pending review" and 34 cases are "under review".
Last week the speed restriction was lifted for the season "to ensure ships can maintain manoeuvrability in winter conditions and for the safety of those operating in Canadian waters," Transport Canada Minister Marc Garneau said.
The North Atlantic right whales migrate south during the winter months. They have not been seen in the Gulf since early December and are not expected back until the ice melts.