Canada's indigenous population has had an historically rocky relationship with governments.
Although efforts have been made in recent years to reconcile with regrettable past actions, only some progress has been made. The residential school issue remains a tragic stain on Canadian history, and many reserves are in a bad state.
The current Trudeau government made it an election issue in 2015 to create a new and better relationship with indigenous peoples in Canada.
But in a new poll by the Angus Reid Institute,  that policy seems to be hitting some less than smooth water.
While a previous 2015 survey by the firm found 70 per cent of Canadians felt the residential school policy of the past was akin to cultural genocide, this latest survey found that 53 per cent said Canada is spending to much time apologising for the residential school issue and that it's time to move on.
Conversely, a clear majority (60%) say that the treaties with indigenous peoples are too often ignored and disregarded, while the rest (40%) say the treaties have been appropriately respected and honoured by governments.
At the same time,a majority also say that in modern Canada, indigenous people should not have special status that other Canadians don't have. (53%), while not far behind (47%) say that indigenous should have unique status because their ancestors were here first before Europeans arrived and took over.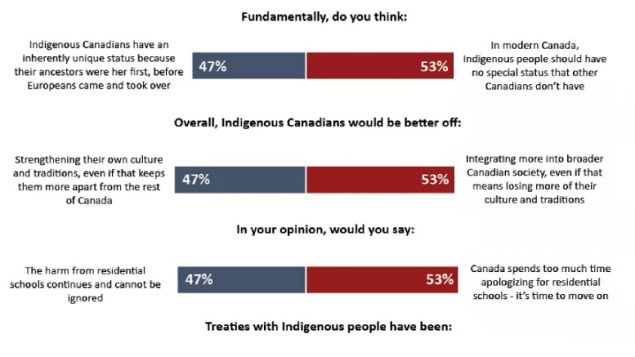 Based on answers, the poll was able to divide Canadian respondents into four categories of sympathetic, and advocate (54%) and hardliner and wary (46%)
Generally the survey found that 19 per cent of Canadians felt the Trudeau government was not paying enough attention to Indigenouse issues, 26 per cent felt it was the right amount, while 32 per cent said the government was paying too much attention to Indigenous issues, the remainder (23%) said they couldn't provide an answer
Yet six-in-ten Canadians (61%) say they have optimism about the future of the relationship between Indigenous and non-Indigenous Canadians.
Additional information