New Canadian Northern Food Subsidy Program Defended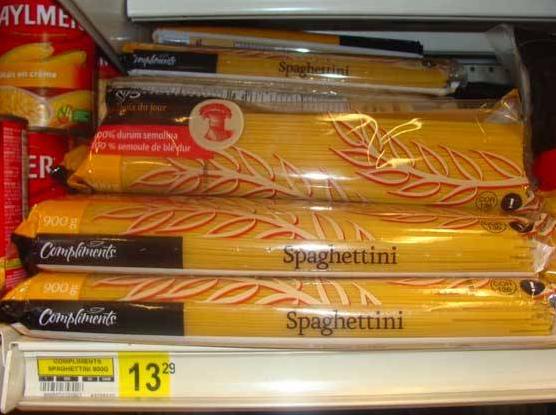 The federal government is defending its changes to the way food prices are subsidized in remote northern communities, after photographs revealed $29 cheese spread and $77 breaded chicken in a Nunavut hamlet.
The photographs, released last week by Nunavut MLA Ron Elliott, showed sky-high grocery prices at the Northern Store in Arctic Bay, a community of about 700 in the territory's High Arctic region.
Elliott, who represents Arctic Bay, Resolute and Grise Fiord, said he has heard concerns from constituents about the federal government's changes to its Food Mail Program, which was rebranded as Nutrition North last year.
"Prices in the High Arctic are very, very high," Elliott told CBC News on Monday. "That's one of the major concerns in the recent months that constituents have been bringing to me in terms of how high they've gone up since, you know, around October."
But federal Indian and Northern Affairs Minister John Duncan insists the Nutrition North Program is not to blame for higher food prices.
Duncan said the new program, which is replacing the 40-year-old Food Mail Program, does not officially come into effect until April 1.
"The Nutrition North Program is not in effect yet and it's already being blamed incorrectly for high prices," Duncan said Monday in the House of Commons.
"The Nutrition North Program has been renovated to ensure the federal subsidy applies to healthy food, and the more remote the community, the greater the subsidy."
Price changes noticed in October
Under the Food Mail Program, the Indian and Northern Affairs Department subsidized the costs of transporting grocery items to northern communities that are cut off from regular road or water access.
The new Nutrition North subsidy instead goes to retailers, who in turn negotiate their own freight rates with airlines. Retailers are then expected to pass on savings from the subsidy to consumers.
In a statement issued Friday, Duncan said the Nutrition North rates will "provide a higher level of subsidy for the most nutritious perishable foods such as fruits, vegetables, metals, milk and eggs, as well as a lower level of subsidy for other items."
On Oct. 3, Duncan's department began phasing out subsidies on foods considered not to be healthy and perishable.
As a result, items like processed cheese spread, instant noodles, hydrogenated margarine and dried pasta no longer qualify for the subsidy.
Shoppers advised to contact retailers
Duncan's statement also said northern shoppers that are "concerned about current grocery costs are encouraged to contact their local retailer."
Michael McMullen of the North West Company, which runs Northern stores in Arctic Bay and other northern communities, told CBC News late Monday that shipping rates have gone up by about 600 per cent for some products since October.
Those price hikes have been a byproduct of the Nutrition North program being implemented, said McMullen, who is vice-president of the company's northern Canadian retail division.
Prices will stay high until April 1, when the program will start subsidizing the costs of healthy foods by five to seven per cent, McMullen said.
Elliott said the prices of many products in his region — even produce that should be subsidized — have gone up.
"Potatoes went from around $12 a bag to about $19; four tomatoes for $9 in Arctic Bay," he said. "Prices like that seem to be going up and I guess it's scaring people."