Alaska Governor Signs Skagway Port Expansion Bill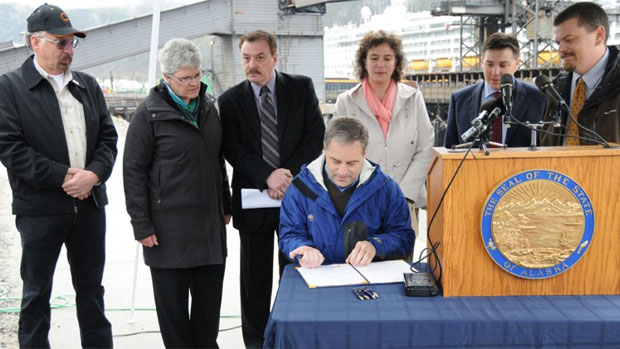 Yukon's modern-day gold rush has officials in Skagway, Alaska, making plans to expand the local port as the place from which Yukon mineral ore would be shipped overseas.
Alaska Gov. Sean Parnell signed legislation on Friday that, among other things, authorizes the Alaska Industrial Development and Export Authority to issue up to $65 million in bonds to finance major upgrades in the Skagway port, including the ore terminal and cruise dock.
The Skagway Ore Terminal could become a key facility in exporting ore from Yukon's mines, including Capstone Copper Corp.'s Minto mine and Alexco Resources Corp.'s Bellekeno silver-lead-zinc mine.
"We had a little tour of the ore terminal here this morning, and standing there in the big ore shed was a big pile of ore straight from the Minto mine," Whitehorse Mayor Bev Buckway told CBC News in Skagway, where she watched Parnell sign House Bill 119 into law on Friday.
Yukon is undergoing a mining boom, thanks to the new mines, mines that have yet to open, and heightened mineral exploration.
"We know that there's a great deal of exploration going on, we've got some mining going to come to fruition in the Yukon, so the terminal here is preparing for that," Buckway said.
"It's a great economic partnership between the state of Alaska and the Yukon."
People in Skagway hope that making the port a main shipping venue for Yukon mineral ore will keep families in the usually seasonal community year-round, the CBC's Dave Croft reported.