Debate over whether eel is endangered in Sweden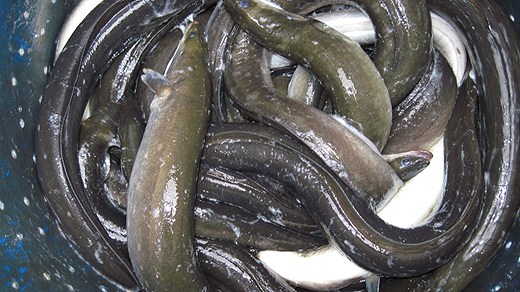 Smoked eel is a delicacy in Sweden, but the slimy, snakelike fish has been said to be on the threat of extinction for years. Now several eel fishers along the Kalmar County coast in the south east of Sweden say the eel is coming back.
Along with the southern blue fin tuna and the Alabama cave fish, and many other animal and plant species, the European Eel is on the International Union for Conservation of Nature's red list, meaning it is critically endangered.
But Karl-Gustav Ottosson, an eel fisher who lives on an island off the Kalmar Sound, says the eel population has gotten better.
"There's more eel that's wondering around," he says. "Definitely. It was much better a long time ago, but during the past five years it has gotten better."
But even as eel fishers say there are more eel, the Swedish Society for the Conservation of Nature has started raising money to buy fishing rights from eel fishers. That way they hope to protect the fish.
Tobias Borger is a biologist who works for Kalmar County. "Of course you can have different opinions about whether eel is on the threat of extinction or not," he says. "I don't dare to answer yes or no to that question."
Despite the questions that remain, Karl-Gustav Ottosson thinks some restrictions should be eased.
"There are very strict restrictions right now," he says. "We can't keep eel less than 70 centimetres long and that's a big eel."
But biologist Tobias Borger doesn't see a change any time soon. "I don't think there's going to be an easing of the restrictions right now," he says. "This is a big political question. An EU question."
Originally posted July 28, 2011