Bright display of night clouds lights central Finland skies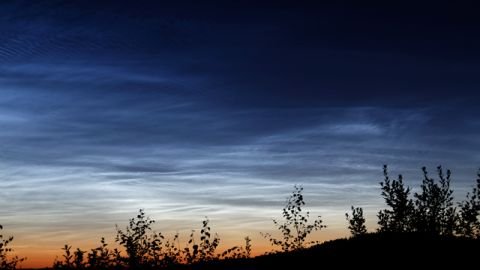 Noctilucent clouds, or "night clouds", are thread-like formations high in the earth's atmosphere that reflect and scatter sunlight, glowing in the night sky. Parts of central Finland were treated to an unusually bright display of the phenomenon on Sunday night.
Night clouds form in the highest layers of the atmosphere 75 – 90 kilometres above the earth's surface. The clouds seem to glow, but actually reflect sunlight from below the horizon.
"These clouds are formed of ice crystals that form around finely-structured dust particles. This dust is most likely from meteorites or possibly material spewed into the atmosphere by volcanic eruptions, " explains Juha Oksa, Chairman of Sirius, a stargazers club in Jyväskylä.
Noctilucent clouds are most commonly seen in central Finland in July-August when the sun is at the right position in relation to the horizon for longer periods of time.
"Last night's display was unusual in its extent and brightness. The finest night clouds that I myself have ever seen. Dimmer ones have been seen more than once over the summer," says Oksa.
For more photos, click here.