Warm weather in Finnish Lapland suits some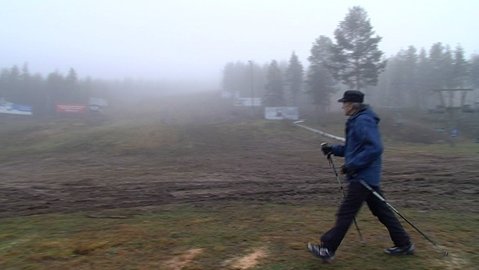 Autumn has been exceptionally mild in Finland's Arctic province of Lapland, but that has not been worrying for everyone. Some who are happy are reindeer herders, because their livestock are getting plenty to eat in the unfrozen bogs of Finland's northern regions.
The warm weather has already claimed one casualty, when the Alpine skiing world cup was cancelled because slopes at the Levi ski resort remained stubbornly green last week.
Herding reindeer is much easier for now. Autumn mushrooms and green fields have not yet been decimated as food sources by the hard autumn frosts usually in place by this time of year.
Migratory birds have remained in Lapland for longer than usual because of the weather. For example in Rovaniemi, the capital of Lapland, there are still swans on the Ounasjoki river.
On the other hand, all the bears wearing a GPS collar from the Finnish Game and Fisheries Research Institute are now hibernating as usual.
The weather has not prevented all winter sports activities. At the Ounasvaara ski centre near Rovaniemi, artificial snow tracks are available for skiers. Christoffer Lindvall of the IF Minken club says that conditions in Finland are at least as good as those he could find in Austria.
RELATED LINK: Ski event in Finland's North cancelled: weather to blame , YLE