Snow shortage in Sweden's Arctic slowing down world's Santas
For the past eight years, the Santa Winter Games have been held in the Gällivare, a small town of approximately 8500 people, in Sweden's Arctic.
Santas from all over the world flock to the small community to compete in kicksledding, porridge eating, Santa karaoke, a reindeer race, the Christmas cone and Christmas Eve events.
But with only a few centimeters of snow on the ground this year, the kicksled competition and the reindeer race that many enjoy will not be held.
"It's a drag that there's no snow, because it really wears out the runners," says a Santa from Hälsingland in southern Sweden, one of the Santas who's participating in the games this year.
"At last year's Santa Winter Games, it was minus 25 degrees Celsius with tons of snow," says games organizer, Mathias Svalenström.
"You have a sleigh when you go out with the gifts, so it's really unfortunate that there's no snow," says Snöretomten from Hälsingland.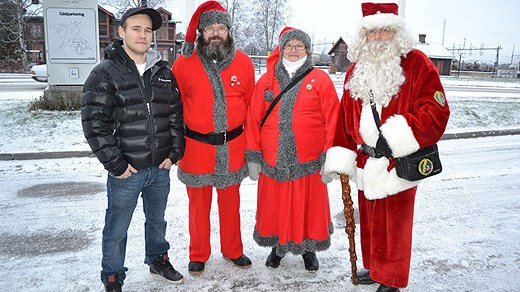 However, Dundertomten, also known as Sivert Svensson, who has participated in the Santa Winter Games since the early 90s—when the competition was in its infancy and held on a much smaller scale than now—believes that snow is on its way.
"Some fresh snow is already on the ground, and it's supposed to be minus 15 degrees Celsius over the next few days, so I think winter is coming," says Dundertomten.
Related Links:
Santa Winter Games 2011; Official event website
"Will winter come to Sweden?"; Radio Sweden