Killer whales are sea wolves of the Arctic: study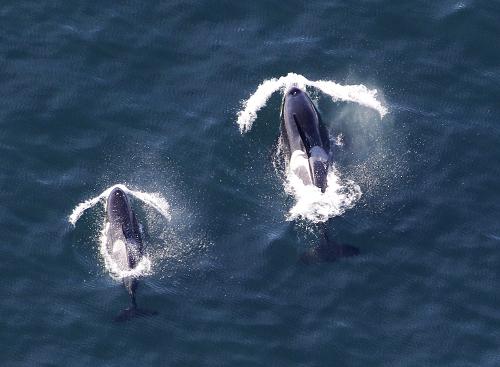 Killer whales that prowl the northeastern Canadian Arctic are the "wolves of the sea" — and seem to relish their hunts and nutritious, if bloody, kills of seals and whales, according to a new ambitious survey of traditional knowledge by Inuit hunters of Nunavut.
In often highly sophisticated attacks that appear to be increasing with the retreat of summer sea ice, roving pods of the marine-mammal-eating orcas readily target bowhead whales, seals, narwhals and belugas in the icy waters.
Sometimes they are even working together to drown the much larger bowheads or use body wakes to wash seals off ice floes into the sea.
"When they are stalking prey, killer whales will slow down, move very deliberately, and remain as quiet as possible in order to reduce the wake and sound produced by their dorsal fin moving through the water," a team of scientists reported in a new study just published in the online journal Aquatic Biosystems. "When they are close to their prey they pick up speed."
Among the findings:
The killer whales were sometimes observed to play with their food or eat only choice parts. Ocras will slap narwhals and belugas to break ribs or rip them in half, with one hunter likening their antics to "playing soccer" with hunks of flesh.
The killer whales were seen working cooperatively to take down the vastly larger bowhead whales, with some orcas sliding up and over the blowhole while others clamp down on flippers.
These Canadian Arctic killer whales appear to be marine mammal specialists — similar to certain other killer whale ecotypes found in the North Pacific and other oceans. No hunter reported ever seeing fish consumed.
The insights come from the first study to focus entirely on traditional knowledge of killer whale behavior in the ice-dominated waters off Nunavut in northeastern Canada — some 105 active marine mammal hunters from 11 Nunavut communities were interviewed between 2007 and 2010.
"Local Inuit have broad knowledge of killer whales as predators, and their observations represent a substantial addition to our knowledge base on this species in the Canadian Arctic, in terms of their distribution, prey selection and hunting behavior," wrote marine ecologist Steven Ferguson, with the Department of Fisheries and Oceans Freshwater Institute at the University of Manitoba, along with co-authors Jeff Higdon and Kristin Westdal.
"Inuit throughout Nunavut reported that marine mammals are the main prey items, and that all species of the phocid seals and the most commonly occurring cetaceans are consumed," they added. "Most interviewees reported multiple prey items, and five … referred to killer whales as the "wolves of the sea", or being "like wolves."
What do elusive killer whales eat?
The highly intelligent and often rowdy killer whales — one of Alaska's iconic marine animals — may roam all of the world's oceans, from the Arctic to Antarctic, Pacific to Atlantic. But they are notoriously hard to study.
During one five year investigation into the dining habits of killer whales along Alaska's Aleutian Chain, for instance, teams of scientists collectively spent 613 days at sea and traversed nearly 32,000 miles of coast but only managed to find orcas at work on 90 occasions and watch them for 275 hours. (That's about one hour of killer whale watching for every 53 hours of glassing the horizon.) For all that effort, the scientists documented only a few score episodes that produced data about what and how they hunted.
Still, decades of similar field work in the North Pacific near Alaska has found three eco-types that never co-mingle or overlap in diet: the noisy and gregarious salmon-eaters known as "residents," the little-seen, deep-ocean fish-eaters known as "offshores" — and the prowling, sneaky marine mammal hunters called "transients."
Ferguson and his co-authors noted that similar patterns probably appear among killer whale populations in the northeastern Atlantic. But until this study, little was known about killer whale habits in the remote and difficult-to-navigate northeastern Canadian Arctic near Nunavut.
"Killer whales were historically present in Davis Strait and Baffin Bay during the ice-free season, where they were occasionally reported in whaling logbooks in the 1800s," the authors wrote.
The species appears to have recently colonized the Hudson Bay region, too.
"Anecdotal evidence, sighting reports, Inuit traditional knowledge, and photographic identification indicate that killer whale (Orcinus orca) occurrence in Hudson Bay is increasing," Ferguson and two co-authors reported in 2010 in "The Rise of Killer Whales as a Major Arctic Predator." "Killer whales were not known to be present in the region prior to the mid-1900s but have since shown an exponential increase in sightings."
Aside from answering new questions about the current status of Arctic killer whales, another goal of the study was to nurture cooperation between the statistics, data-driven methods of modern ecology and the observational insights gathered by traditional hunters over generations.
"By combining (Traditional Ecological Knowledge) and scientific approaches we provide a more holistic view of killer whale predation in the eastern Canadian Arctic relevant to management and policy," wrote Ferguson and his two co-authors in their conclusion. "Combining scientists and Inuit knowledge will assist in northerners adapting to the restructuring of the Arctic marine ecosystem associated with warming and loss of sea ice."
Orca À la carte? 'Whatever they can catch.'
Inuit hunters say the killer whales prowling their waters focused on a half-dozen species of marine mammals and largely ignored fish.
"There is little evidence that Canadian Arctic killer whales eat fish, and interviewee responses suggested that predation on fish, if it does occur, is extremely rare," the authors wrote.
So what did they eat? "Whatever they can catch" and "Eat anything" were the observations by at least 14 hunters.
The Phocid "ice" seals (mainly ringed seals, but also harp, bearded, and hooded seals) were the most common prey, reported by 70 percent of the hunters. Narwhal was next (60 percent,) followed by beluga whales (52 percent) and bowhead whales (46 percent.)
The attacks on bowhead whales — seven to eight times larger than a 10-ton killer whale — were especially sophisticated.
"Most interviewees provided similar descriptions of the techniques used when killer whales attack bowhead whales that included: to drown prey by holding the whale underwater and/or covering the blowhole and immobilize the prey prior to suffocation by biting and holding on to the front flippers and tail, ramming the whale to cause internal damage such as breaking ribs, and tearing chunks of flesh out of the living whale.
"Many interviewees described the cooperative nature of killer whale attacks, such that some whales would be on top of the bowhead, others biting the flippers and tail, while others rammed it. Two interviewees also described observations where several killer whales continued to circle the bowhead, to keep it from escaping, while the others attacked."
Along with targeting narwhals, the killer whales also munched down on belugas. "Killer whales were reported to circle beluga before attacking, and killer whales have been observed ramming belugas with the presumed intent to cause internal damage that included broken ribs. Participants also reported that killer whales bit belugas in the mid-section, hold them in their mouth, and lift them out of the water, and will also toss them around."
Several hunters reported killer whales creating big wakes to knock seals from the safety of ice floes into the ocean.
"Killer whales will circle a piece of ice and use their tails to create waves, washing seals off into the water," the authors wrote. "One Kimmirut interviewee noted that killer whales could create enough turbulence to make waves and try to knock seals off, no matter the thickness of the ice floe, and the other described this behaviour as an example of the intelligence killer whales exhibit when hunting."
Are killer whales seizing the day of climate change?
The seasonal retreat in sea ice concentrations throughout the region may be triggering an ecological shift by allowing killer whales to roam further north into waters that open earlier and remain ice-free longer, Ferguson told the Winnipeg Free Press.
"This change of what animals live in the Arctic is likely going to happen with the warming but we didn't anticipate that…killer whales might be removing certain susceptible prey and maybe temperate species will move up to take their place," he said.
As a result, the dynamics between the ocean's top predator and the smaller cetaceans and seals that serve as its favorite prey may be changing. For instance, seals use sea ice to exit the ocean and escape getting munched by the much larger, less maneuverable orcas. But what happens when those platforms dwindle into slush?
"If we lose that sea ice, they are now going to be out in the open water and don't have the kind of strategies to reduce the risk of a killer whale catching them and eating them," Ferguson told the Free Press. "We just might see a lot of mortality in some of the more southerly areas."
Contact Doug O'Harra at doug(at)alaskadispatch.com
For more stories from Alaska Dispatch, click here.