Fighting a tuberculosis 'flare-up' in rural Alaska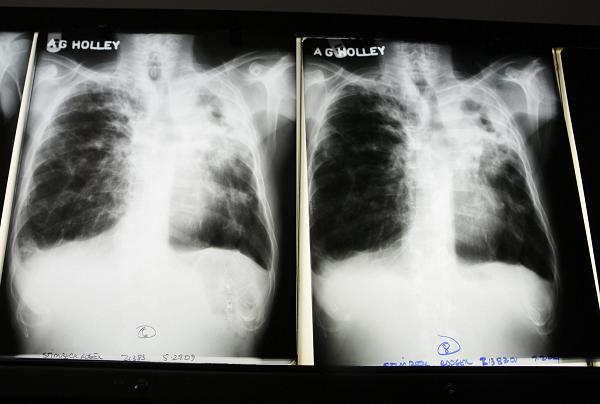 State and local health officials are working to contain a rise in confirmed and suspected tuberculosis cases in Southwest Alaska, a region where the disease once reached epidemic proportions among Alaska Natives.
Four people have recently been stricken in two villages and the hub city of Bethel, all located in the Yukon-Kuskokwim Delta, said Michael Cooper, the state's tuberculosis program manager. He would not name the villages.
"It's a flare-up, not an outbreak," said Cooper.
"We tend to get excited" about increased cases, but the recent rise is not out of the ordinary.
'Sweeps' being conducted
Health officials are wary because the disease, which usually attacks the lungs, can be fatal and easily spread if not treated, he said.
"One untreated person can create 10 active cases in a year, so that's why it's so important to get them treated," he said. "Once they're on effective drugs, they're not infectious after two weeks."
Local responders are conducting "sweeps" in the affected areas. Those are screenings — including skin tests, chest X-rays and mucus tests — of people who may have been exposed to the tuberculosis bacteria.
Two other villages had confirmed cases last year, and those who were infected are still undergoing the lengthy treatment to ward off the illness.
Though great strides have been made reducing the disease in the 49th state, Alaska rates remain among the highest in the nation, with a disproportionate number of cases occurring in rural Alaska.
The sickness, spread through air as people sneeze, cough or talk, rampaged through villages in the first half of the last century, killing thousands of Alaska Natives. Efforts to rid rural Alaska of TB were in full swing some 50 years ago, including floating health clinics that traveled to villages.
No matter whether people developed symptoms, nearly every rural Alaskan was exposed to the disease in those days, Cooper said. Many never showed signs of the sickness, but harbored the bacteria in its dormant form. But as immune systems weaken, often as those people age, a small percentage develop full-blown tuberculosis and became contagious.
That's a big reason rates stay relatively high in Alaska, he said. Crowded household conditions, common in some villages, is another factor.
Screening needed
State health officials want people who have been around someone with tuberculosis to get screened at a local clinic. Those infected in the past, but not screened in the last year, also should be tested at the clinic, the state health department said.
"Screening is also recommended for anyone with a persistent cough, night sweats, weight loss, fatigue, or who is coughing up blood," the statement said.
The state tuberculosis program is working with the Section of Public Health Nursing and local officials to respond. A state worker will head to the villages to assist clinics in the ongoing investigations and prevention efforts, Cooper said.
The Centers for Disease Control has more information on tuberculosis. Check here for the state's website.
Contact Alex DeMarban at alex(at)alaskadispatch.com
For more stories from Alaska Dispatch, click here.