Russia plans to construct largest nuclear-powered icebreaker ever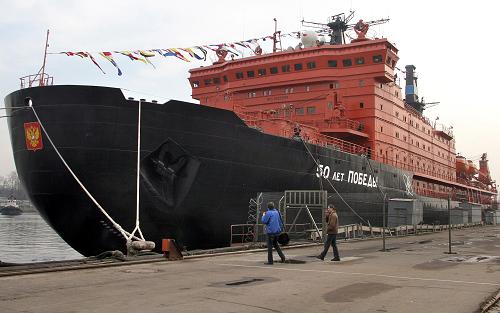 Earth already has plenty of nuclear-powered things; however Russia is eager to add to the list. Alaska's eastern (and northern) neighbor plans to build the largest nuclear-powered icebreaker in the world.
According to BBC news, the new vessel is "meant to be more efficient at breaking ice" and able to navigate the profoundly vast waters of the Northern Sea Route, as well as "narrower Siberian river" channels.
Technically, Russia has already built the largest nuclear-powered icebreaker in the world several times over because it's the only country in the world with a nuclear-powered icebreaker fleet.
But the country believes that an even larger, more powerful craft may attract the attention of foreign commercial shippers. Mathew Willis of defense think tank Rusi told the BBC that the Northern Sea Route "is the best channel in the Arctic." Wilis added that any northern shipping "is probably going to go into the Russian Arctic, so the Russians are trying to make it (the Northern Sea Route) more attractive to ships" by offering a larger more efficient icebreaker.
But some environmental and ecological organizations are apprehensive about the potential for nuclear-powered ice-breaking positives. Anna Kireeva of the Bellona Foundation told BBC that "the amount of diesel need(ed) to burn to advance through the Arctic ice is enormous" and leads to an excess of CO2 discharge. Bellona has expressed distaste for Russia's new icebreaker, warning that although this vessel will have no effect on oil and gas exploration and is primarily meant for shipping assistance, the Arctic is not the best place for nuclear-powered anything.
Regardless, Russia is prepared to begin production, and by all accounts will proceed. State-run nuclear power corporation, Rosatom, has already agreed to take on the construction of the LK-60 icebreaker, which will be built at the Baltiysky Zavod shipyard in St. Petersburg. The 568-foot-long, 112-foot-wide ship is expected to be completed some time near the end of 2017.
For more stories from Alaska Dispatch, click here