Discovering — and dining on — the mummies of the Far North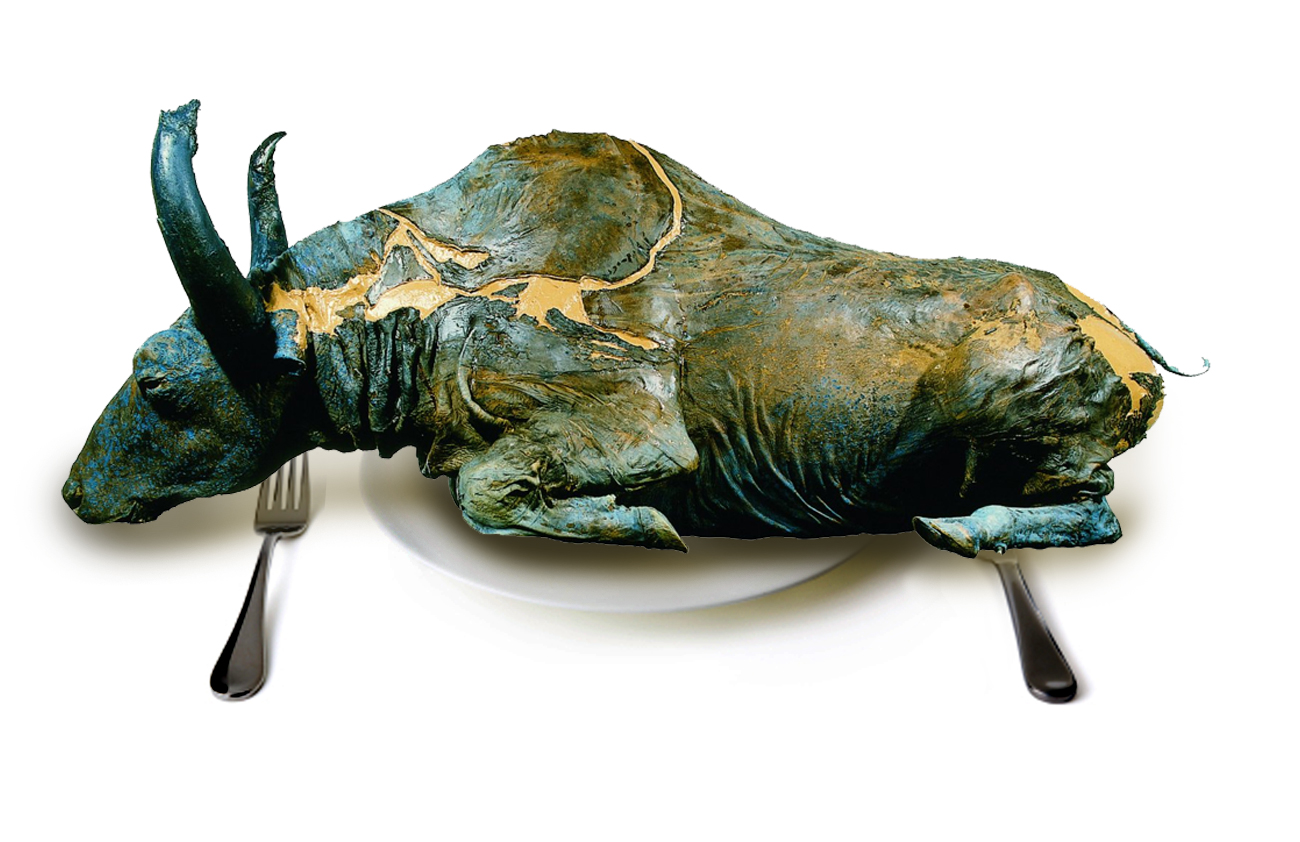 It seems there is a constant stream of well-preserved mummies coming out of Russia's far north these days. Just weeks after scientists said they were hopeful that one such discovery may be so well preserved that it might contain "living cells" suitable for cloning, an 11-year-old boy on Russia's Taymyr Peninsula has reportedly stumbled across another mammoth mummy.
This one is said to contain partially-preserved fat and organs, and was aged around 15 and 16 years at the time of its death.
Discoveries like the latest mummy, dubbed Zhenya after the boy who found it, will be watched closely by researchers around the world, as scientists analyze it for more detail about the creature's prehistoric lifestyle. But after the research is complete, what next? If the new discovery goes the way of some past mummies, bits of Zhenya could end up in the most unlikely of places — in the stomachs of the same scientists and researchers dedicated to preserving it.
But we'll get to that later.
Before these recent discoveries, the best-preserved mammoth specimens also came from Russia. First, it was Dima, a baby mammoth discovered by a gold miner with a bulldozer in 1977. After that, it was Lyuba, another young mammoth with intact fur and skin, which actually paid a visit to Alaska last year as part of a traveling exhibit.
So given the similarities between the Russia's Arctic and Alaska's Arctic, and the distribution of mammoths across each continent, why does the abundance of mummies seem to be in the steppes of Siberia?
Alaska's history of prehistoric mummies is much more limited, especially when it comes to the Pleistocene-era mammoth, which mostly died out more than 10,000 years ago, toward the end of the last ice age.
"For some reason — and I can't really tell you why — we don't seem to be turning up mammoth mummies anywhere near as frequently as people in Siberia," said Dr. Pat Druckenmiller, a curator of Earth Science for the Alaska Museum of the North in Fairbanks.
He said the best-preserved mammoth remains discovered thus far in Alaska were those of "Effie," a young mammoth named for the mining company that discovered the remains in 1948.
Effie wasn't as well-preserved, however; the only parts still intact from the specimen were a portion of its head and its front left leg. That mammoth is now on display at the American Museum of Natural History in New York City.
Druckenmiller describes himself as more of a "dinosaur guy," but said that many Alaskan mummies may have been discovered over the years only to fall by the wayside, out of the domain of museums and academia.
"I do know that there have been other mummified remains that show up here or there over time, a lot of them don't make it into the public realm or museums," Druckenmiller said. "They end up stored in someone's closet, or are bought or sold privately."
That could include things like tusks, bones and other fossils. Last year, a reality TV show that bids on abandoned storage units even turned up a pair of alleged mammoth molars.
Alaska's mining history certainly makes such things possible, as stretches of land have been cleared and dug up by people in search of mineral wealth. Alaska has a bit of a mummy alley, as well, as most of the mummies discovered have been discovered in the state's Interior region, south of the Arctic Circle.
An unusual death
Not that Alaska doesn't have any mummies. There have been numerous finds over the years, particularly of moose and steppe bison, a precursor to the modern-day American buffalo whose range spanned across much of Northern Asia and North America, down into what today is the American Midwest.
Meanwhile, Dale Guthrie, a professor emeritus with the Institute of Arctic biology, said the relative dearth of mammoth populations is due to the simple unlikelihood of animals dying in a way suitable to mummification.
An animal dying a natural death on the grasslands north of the Brooks Range during the last ice age would likely be picked over by predators and bacteria before it could be mummified, Guthrie said. Instead, an animal would have to drown, or be swept up or bogged down in muck or silt during the spring thawing season, when the ground is soft and mobile.
That's why many of the mammoth mummies discovered so far have been younger, Guthrie said — because they weren't as strong as their adult counterparts and less able to escape from situations where they could sink or be sucked into the earth.
"And then, they have to be far north, where it gets colder," Guthrie said. "It's a depositional problem. You don't find them south of the Alaska Range because you don't have the forces that would cover it up in a cold situation. On the North Slope, there are a lot more mummies from the Pleistocene. There are probably even some (mummies) being created even today, drowning or being caught in that muck."
Dr. David Yesner, associate dean of the University of Alaska Anchorage's graduate school, has been on numerous archaeological expeditions around Alaska and elsewhere in the past few decades. That includes a 20-year stint of research at the Broken Mammoth site in the Interior. Yesner agreed that the mobility of the Alaskan landscape could be contributing to the state's seeming lack of mummies when compared to Siberia.
"There's probably a variety of reasons you don't see as many mummies in Alaska," Yesner said. "A lot of (Alaska mummies) have been located near Fairbanks, where there's a little more discontinuous permafrost, especially in the low-lying river valleys. You tend to get a lot of reworking in those valleys, sort of fine silt and downslope movement, and things tend to get moved out of place and occasionally exposed to the surface."
He added that the weather patterns in ice-age Siberia would have been beneficial to the fast-freeze necessary to create a well-preserved mummy.
"In a lot of cases, these guys get trapped in sort of accidental situations, with various openings in the ice, they could fall in and get sort of entombed at the right time of year, usually late summer, early fall, something like that," Yesner said. "They got well-preserved in that sort of situation, because it was a lot colder. Over the height of the last ice age you're getting a lot of clear, cold conditions, a lot of (high pressure systems), 70-below temperatures."
All of that combined for deeper, more stable permafrost that allowed for more perfect preservation of an unfortunate animal.
Dining on the long-dead?
But the world of prehistoric mummies has an odd twist. A persistent rumor among paleontologists and archaeologists is that researchers, scientists and adventurous types have eaten parts of unearthed mummies. But is there any truth to the tales?
Dave McMahan, state archaeologist with the Alaska Department of Natural Resources, said he's heard rumors of researchers eating mummified mammoth in Russia, including some American scientists.
Druckenmiller, for his part, says that he's been hearing stories about people eating mummies ever since he was a student, but indicated a belief that they were mostly myths.
"I can tell you that what I've seen of preserved soft tissue from these animals, it's anything but palatable," he said. "It would be pretty nasty stuff. The tissues just don't preserve that well."
"I would definitely try it," he added. "I have no doubt that people have tasted it, but as far as making a meal out of it, I don't know."
One person who does know is Dale Guthrie. Guthrie was instrumental in the excavation and preservation of Alaska's best-known mummy, a mostly-intact steppe bison unearthed by a miner in 1979 and dubbed "Blue Babe." At the time, Guthrie was a zoologist with the University of Alaska and the primary researcher in charge of handling the mummy.
In his 1990 book "Frozen Fauna of the Mammoth Steppe," Guthrie goes into comprehensive detail on the recovery of Blue Babe, so named for a coating of mineral that gave the skin of the mummy a bluish tint. Blue Babe is still on display in Alaska and can be viewed at the University of Alaska Museum of the North in Fairbanks.
Guthrie's book is an in-depth roundup of mummies discovered in the Arctic over the years and of the science behind the preservation of Blue Babe. But the very last paragraph in the book takes an odd, almost "Silence of the Lambs" turn, when Guthrie describes cooking and eating part of the specimen to commemorate the work of the mummy's taxidermist, Eirik Granqvist:
To climax and celebrate Eirik Granqvist's work with Blue Babe, we had a bison stew dinner for him and Bjorn Kurten, who was giving a guest lecture at the University of Alaska that week. A small part of the mummy's neck was diced and simmered in a pot of stock and vegetables. We had Blue Babe for dinner. The meat was well aged but still a little tough, and it gave the stew a strong Pleistocene aroma, but nobody there would have dared miss it.
Guthrie shrugs off the meal after all these years. He said they cooked the meat with carrots and potatoes, and the meat was dehydrated but softened in the broth.
"When things freeze, the moisture tends to be removed, but you can drop a piece of jerky into a liquid and rehydrate it," Guthrie said. "I'd heard of mammoth and all these other things being eaten, so I thought 'why not try it?' It wasn't for scientific purposes."
Guthrie isn't alone in his prehistoric appetite, either. Dr. David Yesner has also tasted an ancient beast, this time a mammoth named Jarkov, discovered by a 9-year-old boy in Siberia in 1997. Jarkov is one of the best-publicized discoveries of an ancient animal, with the Discovery Channel extensively documenting the recovery and study of the mammoth, estimated at almost 50 years old.
Yesner's dining experience on Jarkov didn't come in Russia, though, but thousands of miles away in the Netherlands, in the home of man named Dick Mol, an unlikely expert on mammoth remains who has spent years cataloging a huge number of ancient remains.
"Dick Mol is a Dutch guy who's not actually a paleontologist or scientist by trade," Yesner explained. "By occupation, he was a customs officer in the port of Rotterdam. For decades, he paid various North Sea fishermen for bones that they drug up in the North Sea.
"You walk into his house in the Netherlands and his house is just chock full of mammoth bones, not just woolly mammoths but woolly rhinos and some others. He's an expert as a result of his collection."
As a result of his interest, Mol was heavily involved in the recovery and research of Jarkov. He figured prominently in the Discovery Channel's documentary on the remains. One day, a couple of years ago, Yesner said he was at Mol's home when he was offered an unusual appetizer before dinner.
"We're waiting to go out to dinner," Yesner said, "when (Mol) asked me. 'How would you like to try a bit of the Jarkov mammoth?' And I just said, 'What?' And he said 'I have a bit of it in my freezer.'
So Yesner agreed to give it a shot. Mol retrieved a bit of mammoth meat from the freezer and gave it to Yesner.
"I didn't have the opportunity to thaw it out," he said of the meat. "It's not exactly the tastiest thing in the world. You know what freezer-burned meat tastes like? It was a lot like that."
He said he had a bit of an upset stomach the next day, but couldn't directly attribute it to the piece of 20,000-year-old meat he'd had the night before. Yesner also didn't have any regrets, as a scientist, about eating the unusual delicacy.
"When you're trained as an anthropologist, you're encouraged to try foods from other cultures," Yesner said. "So why wouldn't you try a food from an ancient culture?"
Contact Ben Anderson at ben(at)alaskadispatch.com
For more stories from Alaska Dispatch, click here