Walrus coming to shore in Alaska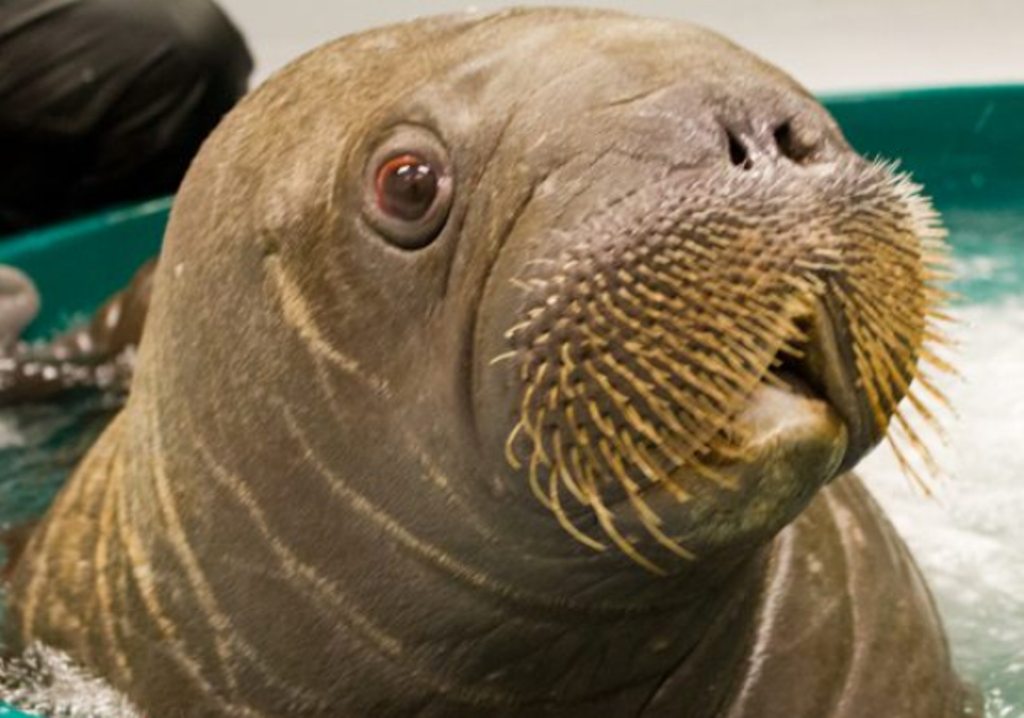 As scientists across many disciplines begin to piece together the ecological mysteries of the Arctic Ocean off of Alaska's shores, they're beginning to back up with research suspicions about how marine life will adapt to a rapidly changing world. On Wednesday, the U.S. Geological Survey announced it has evidence that Pacific walrus, a species being considered for listing as threatened under the Endangered Species Act, are changing their behavior in direct response to lack of sea ice.
Using radio tags, the USGS followed the migratory movements of 251 walrus from 2008-2011, and found that more of the animals are coming to shore and feeding close to land than has occurred in the past. Importantly, they have for the first time documented that females and calves, in addition to males, were part of this shift in behavior. Without sea ice to haul out on over the continental shelf, a prime feeding ground about 150 feet deep where the ocean floor acts as a nutrient-rich buffet of clams, worms and snails, walrus have no place to rest while snacking along the continental shelf. Since 2007, the ice edge has increasingly receded into deeper and deeper water north of the shelf's edge.
A brief film detailing the research project was also created, and includes images of walrus in their natural habitat on the ice in the Arctic.
Males, which have air sacs in their necks that inflate to help them float, are better equipped for long distance swims and to spend more time at sea than females, whose air sacs aren't as well developed.
Another discovery is that walrus are foraging in fall in areas slated for oil and gas exploration. The Hanna Shoal, a particularly production ocean shelf, is situated in relatively the same area where Royal Dutch Shell has just this year begun exploratory drilling.
What's not known is how all of the information being gathered will translate to the measurable ongoing health and well being of walrus. It was predictable that with no sea ice walrus would come to shore, a phenomena now backed up with data. Questions remaining to be answered include, how much more energy does female and young walrus need to survive for months on land instead of at sea? Can near-shore food sources sustain them? Can those food sources withstand the feeding frenzies of droves of hungry walrus? Will female walrus continue to be able to bear young? To raise healthy young?
At present, researchers in the Chukchi Sea haven't noticed much different about the condition of the walrus. But there's a lot they acknowledge they might not be able to see, such as discreet changes within the body or metabolism that might not yet be evident.
One thing that is known is that more walrus, including females and young, are hauling out on land, where the near-shore ocean floor has fewer clams, is sandier, and offers different, less appealing meals like sand dollars, said Chad Jay, one of the USGS researchers on the project. And perhaps more immediately problematic than access to food or the energy spent commuting to get to food, is the risk of trampling injuries and death especially among calves, that can be caused when land-lounging walrus get spooked and stampede for the sea.
Lack of sea ice isn't the only change walrus are facing. It's thought with increasingly long open-water periods in the Arctic, the animals will find themselves in contact with humans more frequently. Oil and gas development, trans-ocean shipping, fishing traffic and even tourism are expected to increase in the years ahead. And the character of the ocean itself may shift in response to less ice. Distribution and availability of nutrients may also be affected.
The stresses are cumulative and part of what Jay calls a "tremendously complex" mix of dynamic influences that will shape the environment walrus live in. "There is tremendous concern for the population," he said.
With predictions suggesting an ice-free summer Arctic by 2035 – some say as early as 2025 – the race is on to gather as much information as possible to help shape policy and regulatory efforts in the future. Although the walrus population is large, it is experiencing dramatic changes, said Joel Garlich-Miller, with Marine Mammals Management at the U.S. Fish and Wildlife Service, who said controlling disturbances and mortality rates can go a long way to conservation. "The future is still unwritten for a lot of this," he said.
"The loss of sea ice is the 'why' for the change in walrus behavior; the tracking data tells us the 'where' in terms of their new forage patterns," USGS Director Marcia McNutt said in a prepared release. "What waits to be seen is 'how much will it matter?'"
Contact Jill Burke at jill(at)alaskadispatch.com
For more stories from Alaska Dispatch, click here