Google maps Iqaluit with backpack cameras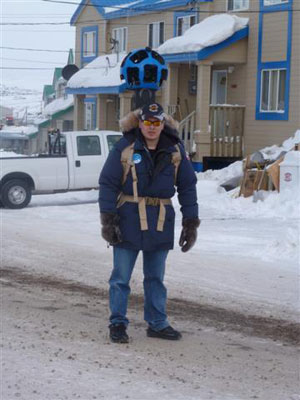 Over the next couple of days, residents of Iqaluit, the capital of Canada's Arctic territory of Nunavut, may see pedestrians carrying some strange-looking equipment on their backs.
They're members of a team working for Google Maps to photograph the city for Google Street View.
Team members wear a backpack called a trekker, which has a camera system mounted on it to capture 360-degree street level images.
Chris Kalluk, who works with Nunavut Tunngavik in the land department in Cambridge Bay, is one of the trekker operators.
"I want more people to be able to visit here without leaving their homes," he said.
"Also to be able to see the place before they come up. They'd have an essential feeling of what it's like up here before they actually move up here or come visit."
Kalluk said he's excited to be part of Google's first winter visit to Nunavut.
Last summer, the company was in Cambridge Bay taking photos there for Street View.
The Google team will be in Iqaluit until Sunday.
For more northern stories from CBC News, click here