Voisey's Bay underground mining deal reached
Vale, Premier Dunderdale reveal details on extending life of massive Labrador nickel find
The Newfoundland and Labrador government and mining giant Vale have struck a deal for underground mining at Voisey's Bay, in northern Labrador, extending production life to 2035.
In return, the government will allow Vale to export more Voisey's Bay ore for the next three years without it being processed inside the province.
"We are pleased with the outcome of these negotiations with Vale," Premier Kathy Dunderdale said Thursday during a joint news conference with Jeff McLaughlin, a Vale vice-president responsible for operations in Newfoundland and Labrador.
"The new mine will provide many hundreds of construction jobs after sanction in 2015, and even more operational employment than the current mine after first ore is achieved in 2019."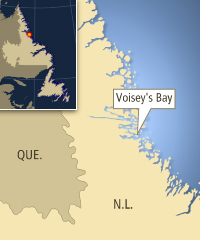 The government will get financial compensation of $100 million for the exemption involving nickel extracted from the mine on Labrador's northern coast.
The agreement significantly extends the commercial life of the Voisey's Bay mine, which is considered one of the world's largest nickel finds.
"The agreement provides Vale with the necessary additional exemptions from primary processing that ensure continuity of operations at Voisey's Bay while construction continues on the Long Harbour processing plant," McLauglin said.
Former owner Inco shipped its first concentrate from the Voisey's Bay mine in 2005. Two freelance prospectors working for Vancouver-based Diamond Fields Resources discovered the massive deposit of nickel, cobalt and copper in 1993.
Until now, production has focused solely on the surface of the mine.
Vale had estimated that it can run the surface phase of the mine for about 14 years.
The agreement on opening the underground mine effectively extends the life of Voisey's Bay by another 15 years.
About 450 people work at the mine and concentrator.
The agreement on underground mining will mean significant royalties for the Newfoundland and Labrador government, employment at the Labrador mine and production at a Vale processing facility in southern Newfoundland that is expected to go into production in the coming months.
For more stories from CBC News, click here