First Nations Bank to open in Yellowknife, Canada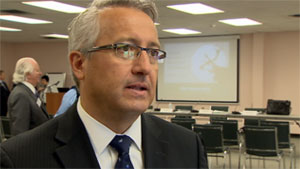 The First Nations Bank of Canada will open a branch in Yellowknife, the capital of Canada's Northwest Territories (N.W.T.) this fall.
The bank made the announcement on Thursday in the N.W.T. capital.
CEO Keith Martell said the bank is coming to Yellowknife because of the large aboriginal population and resource development in the region.
The First Nations Bank of Canada is 80 per cent owned by aboriginal shareholders from the Canadian provinces of Saskatchewan, Manitoba and Quebec, and Canada's northern territories of Yukon, Northwest Territories and Nunavut. It offers banking services to aboriginal and non-aboriginal people, corporations and governments.
"People always ask why do First Nations or aboriginal people need their own bank," Martell said. "When we started the bank in 1996, we started to see a lot of aboriginal people participating in the market, a lot of land settlements, resource developments and a lot of the other banks didn't focus on the market."
The Gwich'in Tribal Council is a seven per cent shareholder in the bank. Council member Fred Koe joined the bank's board of directors Thursday.
The bank announced more than a year ago it plans to open three more small market branches in Nunavut in addition to its branch in Nunavut's capital city of Iqaluit, but Martell said he still can't release the names of the communities yet.
The bank also has branches in Saskatoon; Chisasibi, Que.; Walpole Island, Ont.; Winnipeg; Meadow Lake, Sask.; and Whitehorse.