Family company in North Sweden gets business award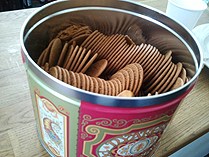 A gingerbread factory has been named Food Exporter of the Year. Nyåkers Pepparkakor, based in northern Sweden, got the award after launching their products globally. They are also producing special cookies to fit in with local tastes.
Swedish food hasn't had the best rap internationally of late, what with the horse meat scandal hitting IKEA meatballs, and bacteria normally only found in faeces allegedly found in cakes. But did you know that Sweden is actually a big exporter of food?
The Swedish Food Federation, the industry organisation says that Swedish food exports were worth over 58 billion kronor in 2012, and the most important of those products were Absolut Vodka, Crisprolls, and even frozen peas. Swedish peas are said to be among the best in the world. But none of those won the export of the year prize.
That went instead to a small family company in northern Sweden that is exporting that most Swedish of festive delights, pepparkakor, or Gingerbread biscuits around the world.
The current CEO of Nyåkers Pepparkakor is just 26 years old and his name is Christoffer Öhberg. 35 percent of his company's income now comes from export markets around the globe. And one of the flavours developed by the company includes "Pumpkin gingerbread", aimed at the US market for Halloween time.