Climbers pioneer route on Alaska mountain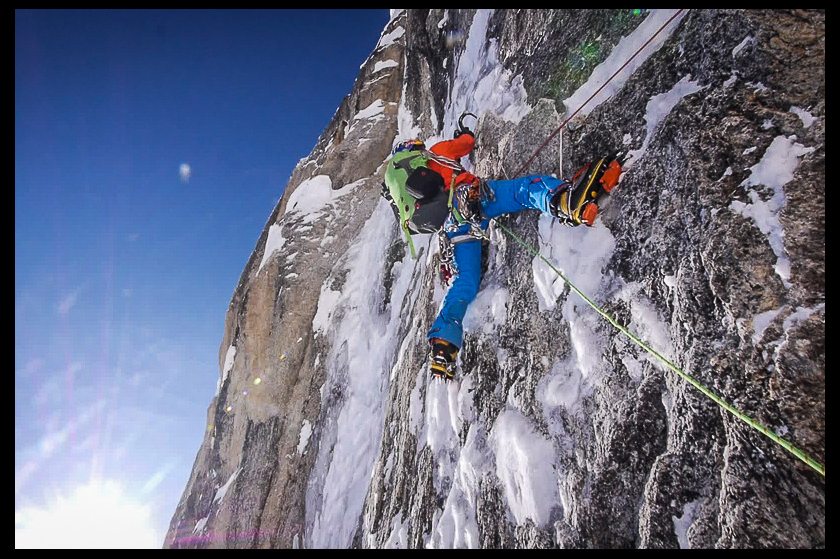 Moose's Tooth is not the biggest or best-known mountain in a range that bears the name of the 49th State where it resides — it's overshadowed in both respects by the granddaddy of Alaska peaks, Mount McKinley, also known as Denali or "the high one." At a height of only 10,335 feet, Moose's Tooth is dwarfed by McKinley's massive 20,320-foot elevation. Despite its diminutive stature, however, it is considered one of the more difficult climbs in the Alaska Range, especially its tricky and particularly steep east face, sitting above Buckskin Glacier at its base.
But on April 8, Swiss climber David Lama and Austrian alpinist Dani Arnold arrived in Alaska for the first time in their lives. By April 10, they were on Buckskin Glacier. Beginning at about 2 a.m. April 12, they were on their way up Moose's Tooth along an east-face route no one had ever attempted before. By the early morning April 14, having successfully completed the climb, they were back at base camp.
In two days, the two men had created on the notoriously difficult east face of the mountain a new route now dubbed "Bird of Prey," joining other uniquely named lines up the Tooth like "Ham and Eggs" — the mountain's most popular route, which well-known outdoors writer Jon Krakauer was among the first to ascend in 1975 — and "Dance of the Woo Li Masters."
Easier said than done
In an interview Sunday, Lama made the climb sound easy, despite the high level of technical difficulty, an ascent of about 7,500 feet with occasionally vertical and even overhanging stretches of rock and ice, with snow mushrooms sticking out menacingly from the mountain overhead. The east face is rarely climbed now, and Lama seemed doubtful that Bird of Prey will become an exception to that.
"The east face of the Moose's Tooth is one of the most difficult faces in the whole AK range," Lama said in soft-spoken English with a Swiss accent. "I think many American alpinists also think that. I don't think the line will get repeated very often. For me the technical difficulties were definitely high, but at the same time, I've also climbed harder pitches."
Brandon Latham, a mountaineering ranger with Denali National Park and Preserve, said Moose's Tooth is different from many of the other popular mountains in the Alaska Range, largely because of its pitch.
"A lot of the routes in the Alaska Range typically are involved in larger formations that are more traditional mountaineering type routes, which is not necessarily vertical climbing," Latham said.
Instead, they're what's known as "walk-up" routes — a bit of a misnomer, given that many of these still require significant skill and conditioning to summit, as well as more traditional periods of climbing.
"I don't want to use the word 'hiking,'" Latham laughs, "but it's more walking on low-angle to moderate-angle steep terrain."
Not so with Moose's Tooth's east face. But a collection of ideal conditions allowed Lama and Arnold to attack the mountain with a speed that saw them spend only one night on the peak, arriving back at base camp at about 2 a.m. April 14.
Breaking new ground
A two-day weather window, along with lengthening daylight, helped the climbers along on their journey. They'd spent their first day on Buckskin Glacier staring through binoculars at the steep rock face of Moose's Tooth, trying to figure out a route. They knew they wanted to try a first ascent of a new line, Lama said. Whether or not they could pull it off was another matter.
"First ascents … are always the most interesting thing, because there's always the factor of the unknown," Lama said. "You always want to try something where you are not 100 percent sure of what the outcome will be."
They skied over to the bottom of the face, waking early to begin the ascent. On the first day, Lama said, they tackled the first 700 meters of the mountain "solo" — without the use of ropes.
The next morning, knowing they could make a push for the summit, they left nearly everything behind at camp, aside from some extra down jackets, a liter of water apiece, and some necessary equipment for the last stage of the climb.
Over the course of the day, they reached the summit — including passing over a 1,500-foot section of rocky headwall that Lama said he believed he and Arnold were the first to find a line through — and headed back toward the bottom.
"When we left camp that morning, we were not 100 percent sure if we could make it or not, but we had this weather forecast that said we'd have two days of good weather, and the first day we got really high," Lama said. "If bad weather came in the third day, we couldn't make it. I don't know if this expression will work in English, but we were putting it all on the one card."
That big bet paid off, with a speedy ascent and a new route up the mountain that they got to name. And that fresh, untouched mountain is where alpinists like Lama and Arnold really want to leave their mark. It may be what brings Lama back to the Last Frontier, to tackle another peak.
"I mean, I don't have a specific mountain in my mind right now, but what I've seen in the Alaska (Range) is just impressive, peaks we just don't have in the Alps," Lama said. "Or if we have them, it's just where mountaineering and climbing in general have been developed, so it's hard to find new lines in general … those are the things really tempting to us."
It's not likely that the team of Lama and Arnold broke any speed records on the climb, despite their fast ascent. The Park Service does not keep comprehensive statistics on Moose's Tooth climbers the way it does for McKinley mountaineers. According to Park Service spokeswoman Maureen McLaughlin, most climbers tackling Moose's Tooth will register their climb, but they're not required to. That keeps records a little less complete than the well-traveled McKinley.
But Mountaineering Ranger Latham said teams can occasionally get up and back on Moose's Tooth in a day, depending on the route and the fitness of the team. The mountain's relatively short height helps too.
Still, there's no comparing the speed of Lama and Arnold with others because they did it on a new route that no one else had ever attempted. And it'll take a pretty perfect setup for anyone to break their record — let alone even successfully complete — their climb up Bird of Prey.
Read a first-person account of Lama and Arnold's climb on Lama's blog.
Contact Ben Anderson at ben(at)alaskadispatch.com