No help in Nunavut, Canada for inmates with FASD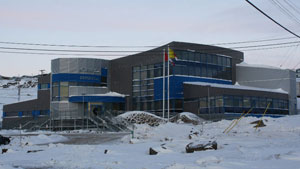 An offender suffering from Fetal Alcohol Spectrum Disorder (FASD) will have a hard time getting treatment in Canada's eastern Arctic territory of  Nunavut because there are no programs for the disorder in the territory's correctional system.
In June, Senior Judge Robert Kilapatrick challenged lawyers and policy makers to come up with creative or alternative sentencing for Peter Joamie, 23.
Joamie is waiting to be sentenced for sexual assault. Three years ago, Joamie was drunk at a house party and tried to sexually assault a woman who had passed out.
It has been determined he has Fetal Alcohol Spectrum Disorder, and Kilpatrick says he needs treatment.
The problem is that there is no specific treatment for inmates with FASD in the territory.
Justice officials would not grant CBC News an interview, but they did issue a written response. At the overcrowded Baffin Correctional Centre in Iqaluit, officials said the Katak unit is used for those with behavioral adjustment issues. The unit only has room for 18 inmates, who are given access to a case worker and the institution's psychologist.
At the Rankin Inlet Healing Facility, there are programs dealing with such issues as spousal abuse to addictions, but there are no specific programs for inmates with FASD.
That means there is no help available for Joamie and other inmates with FASD within Nunavut.
Joamie will next appear in court for his sentencing in Iqaluit on Aug. 29.