Despite hot weather, Anchorage, Alaska has plenty of water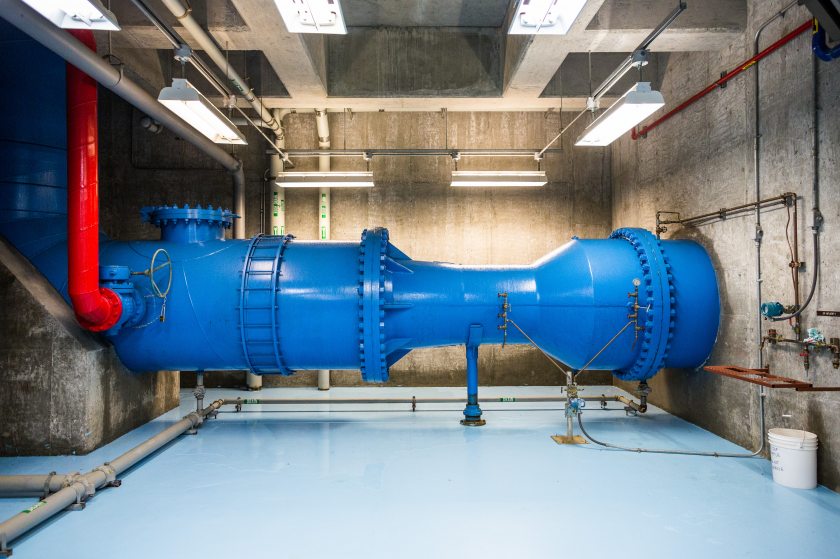 Despite the long string of hot days bearing down on Anchorage this summer, Alaska's largest city is flush with pristine, bountiful water thanks to the nearby Eklutna Lake. The quality and abundance of the water that flows to Alaska's largest city is as unique as 49th state itself.
Water from 3,420-acre Eklutna Lake is "superb," said Eklutna Water Treatment Plant superintendent Brian Yonkoske on Tuesday. The massive, 870-foot deep lake is fed by rain runoff and the neighboring Eklutna Glacier, which supplies the lake with water that has been frozen thousands of years.
At the Eklutna plant, the water is treated with poly-aluminum chloride — 10 gallons of the chemical for every 1 million gallons of water – and filtered through gravel, sand and anthracite, which transform the cloudy liquid into crystal-clear water. Chlorine and fluoride are added, and the water is pumped out to the Anchorage Bowl via an underground pipe.
Anchorage's water use is "just a drop in the bucket," from the lake, Yonkoske said. Three electrical companies, Anchorage Municipal Light and Power, Chugach Electric Association, and Matanuska Electric Association are the actual owners of the water rights to the lake, and the Anchorage Water and Wastewater Utility actually buys the water from them (May's bill was $62,000.) Those companies draw more than 250 million gallons per day from Eklutna to create electrical power for Anchorage and the Matanuska-Susitna Valley.
Anchorage residents are also "very lucky" to have non-metered water for their homes, an oddity for a city with nearly 300,000 residents. "We don't care how much you use — that's not our business. Our job is to make sure that when you turn it on, it's there," Yonkoske said.
Compare that to the city of Kenai, population 7,100, which is asking residents to restrict their water usage and stop watering their lawns one day a week in an effort to conserve water from the city's reservoir, which has been drained as residents use more water during hot weather.
"We're nowhere close" to water rationing in Anchorage, Yonkoske said. And Anchorage's relatively low residential water rate, around $50 a month for unlimited usage, should remain stable for the foreseeable future.
On a warm day like Thursday, Anchorage residents use about 40 million gallons of water for daily activities, from watering lawns to cleaning salmon to taking a shower. Winter usage is about half that, some 20 million gallons of water a day.
Water use increases on Friday and Sunday nights, when people are heading out of town and coming home, Yonkoske said.
Nationwide, the single-biggest annual water usage spike comes during a very specific moment: Super Bowl halftime. During that half hour or so, everyone walks away from their televisions to use the facilities.
"I've watched it," Yonkoske laughed. "You can see it" in real-time from the water treatment plant.
On hot days, about 32 million gallons of that water comes straight from the Eklutna Water Treatment Plant to Anchorage homes. The additional water needed, around 7 million gallons, comes from the nine wells in the Anchorage area. The rest of the water comes from the 16 water reservoirs scattered around the city. A water processing plant at Ship Creek can also be used when needed, but has so far been tapped for only one time this summer for a few hours.
Officials monitor the water levels of the reservoirs and wells in real-time, around the clock, from the plant.
The most use Yonkoske has ever seen is 60 million gallons in one day, during the scalding-hot summer of 2004. "That was our absolute worst – or should I say best, year for water consumption," Yonkoske said. That year, officials were on the brink of asking residents to restrict their water usage, but barely pulled through.
The water treatment plant and supporting infrastructure will need some upgrades in the future. "Five years from now I could see where we'll be falling a little short," Yonkoske said, but overall it should hold up for about 20 years.
Contact Laurel Andrews at laurel(at)alaskadispatch.com