U.S. tourists missing in Nunavut, Canada presumed dead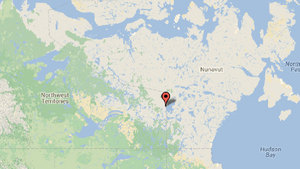 Two American fishermen who vanished on a remote Nunavut lake are presumed dead and the search is now a recovery effort, say the lodge owners.
The two men were on a fishing trip on Dubawnt Lake, about 250 kilometres southwest of Baker Lake, a community in Canada's eastern Arctic territory of Nunavut.
On Monday, they failed to meet the plane that was scheduled to pick them up. Their boat was found out of gas about eight kilometres from their camp.
Ookpik Aviation of Baker Lake spent the last two days flying around the massive lake, searching for any signs of the men.
Paul Kotelewetz of Ookpik Aviation said they combed the entire area Wednesday, searching all the islands and beaches around the lake.
"The lodge that the guys were basing out of was on the lake there and they were seen from camp, trolling and fishing," said Kotelewetz.
"We're assuming that possibly one guy went overboard, and the second one, in an attempt to save the first, met the same fate."
Curt Enns, owner of Tukto Lodge, said the men were last seen fishing close to the lodge on Monday. He says they were not accompanied by a guide by their own request.
In a news release, he said that law enforcement officers told him search efforts have been called off and the focus will now be on recovering the bodies.