Alaska aviators: Is that a drone in your airspace?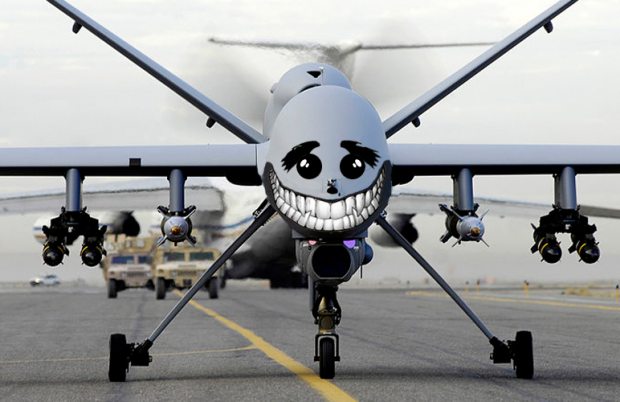 As the national conversation builds about what drones should and should not be used for in the U.S. (along with some crazy ideas about how to deal with them) it's a problem that pilots will want to consider in flight planning. In coming years, drone use is likely to drastically increase in Alaska airspace and carries enormous economic potential, contributing as much as $90 billion to the U.S. economy and potentially creating as many as 100,000 new jobs in the next decade, by some estimates.
The FAA has issued a Fact Sheet on Unmanned Aircraft Systems — drone — activity which provides an overview of their use and the FAA's role in issuing certificates of use and ensuring public safety. The actual regulations on drones are still being drafted but UAS operators are already required to provide detailed information about proposed activity to the FAA for approval prior to flight and must also adhere to other specific rules. "We can only operate in visual meteorological conditions," explains Greg Walker, University of Alaska Unmanned Aircraft Program Manager, "and must have an individual with the team whose only function is to 'see and avoid' other aircraft." Some unmanned aircraft are equipped with radar allowing another layer of flight safety.
"Our main task is to 'do no harm', when it comes to other aircraft," states Tim Barnes, a support contractor with the UA program, "and we are constantly practicing innovative solutions to see other aircraft even if they are flying low, not using transponders, etc."
Busy Alaskan airspace
Walker and his team were in King Salmon during the height of summer flying season this year and are aware of how busy Alaskan airspace can become. However, they also often operate in areas that see low flight activity, such as 150 kilometers offshore at only 300 feet altitude, where engagement with other aircraft is rare. This is the nature of the sort of programs Alaskan drones are involved in, which includes everything from sea ice monitoring, wildlife research and management, emergency response support for oil spills and wildfires to assisting in ship navigation through sea ice. Also, the first commercial permits for drone use were recently granted for operation. One will operate in the Chukchi Sea on Alaska's northwest Arctic coast for ConocoPhillips, the state's largest oil producer. The other drone is not yet officially aligned with a specific oil company.
One of six new drone-testing sites?
Alaska is also a candidate region in the running for FAA approval to be one of six new drone-testing sites; selection would clearly increase activity in the state. (New Mexico State University's Unmanned Aircraft Systems Flight Test Center is currently the only FAA-approved UAS test facility in the U.S.) Alaska is the lead member in a partnership including Oregon and Hawaii and jointly the three states offer a set of extreme climates, long history of UAS experience and, especially in the case of Alaska, a vast area of uncontrolled airspace and limited aviation activity. The FAA is reviewing over fifty proposals from thirty-seven groups for the six slots and is expected to make an announcement concerning site approvals by the end of the year.
The Aircraft Owners and Pilots Association has provided the most organized response from pilots to increased drone activity and in an article in Flying magazine last year, Heidi WIlliams, AOPA's Vice President for Airspace and Modernization, stated the following which remains their official position:
While AOPA supports the integration of UAS into the national airspace system, it must be done in a way that does not adversely affect the safety or operations of existing airspace operators….In order to safely operate in the airspace system without segregation and without any negative impact on general aviation, we need clear certification standards that UAS and UAS operators can meet that allow the systems to be integrated just like piloted aircraft.
Walker and his team are confident that UAS can have a minimal, if any, impact on piloted aircraft and their safety record in the state to date is impeccable. For now, pilots wishing to be notified of potential drone activity in their flight path must contact their local Flight Service Station and inquire about any pertinent NOTAMS (Notice to Airmen).
Contact Colleen Mondor at colleen(at)alaskadispatch.com