Rural Alaska school saviors honored with scholarships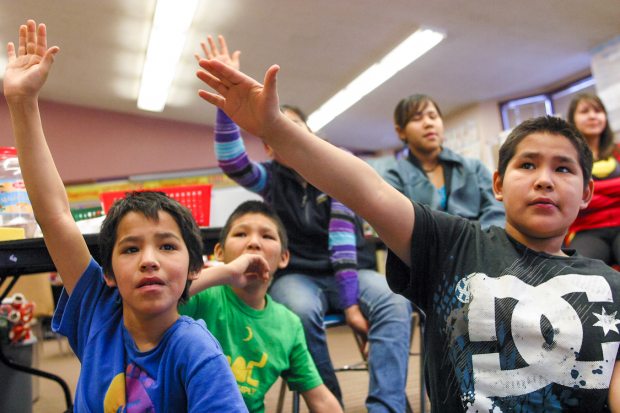 Two brothers who helped raise money to keep their village school open are among seven youth to win scholarships under a new program that honors outstanding student acts and educational achievement.
Tyrel and Eric Gusty, 13 and 12, both received $1,500 from the Summer of Heroes program, money they plan to one day use for college.
The two students hail from Stony River, population 54. They have played a pivotal role helping at the only store in the village, a school operation that has provided funds for major student trips to California and Washington, D.C.
That changed last year, after enrollment dipped below the 10 students required to receive full operational funding from the state. At that point, the sales of ice cream, bread and flour became a lifeline that allowed classes to continue. The money, about $1,000 a month, supplements state funds that still go to the Kuspuk School District for each student who remains in Stony River.
With six students between the 5th and 11th grades, classes are now held in a teacher housing unit — the school building that once housed many more kids is too expensive to operate.
Founded as a trading post in 1930 to serve mining operations that no longer exist, the village of Stony River and others along the upper Kuskowkim River region have steadily lost residents over the decades.
The school will likely continue to operate in the teacher housing unit for another two years, until the students numbers rise to 10 again, said teacher Debi Rubera. In the meantime, she knows she can count on the Gusty brothers to help at the store.
Other students also help, but the two Gustys are invariably at her side to help unload when the plane from Anchorage flies over the mountains delivering groceries for the school store, she said.
"I am never picking up supplies for school without Eric and Tyrel," said Rubera. "They are the two I can always count on to shelve things and price things. They're in the middle of it all."
Others in the village rely on the students to help them haul groceries home if they're too heavy. They also regularly delivered meals to an ailing and elderly man last winter.
The Gustys' scholarships were announced at the Alaska State Fair in Palmer on Sunday, along with other winners. The Summer of Heroes awards were first given in 2011 by Alaska Communications and Boys & Girls Clubs – Alaska, to honor students who make a difference or inspiring others.
Below are short biographies on the five other winners, according to a press release:
Kearstyn Cotten, age 9, Anchorage – Despite having Type 1 diabetes since age six, Kearstyn has never let it stand in her way. She is passionate about increasing awareness about the disease and raising funds for her local chapter of the American Diabetes Association. Kearstyn assists with organizing diabetes fundraisers in Anchorage, including Tour de Cure and Step Out Walk to Stop Diabetes, and getting others involved. She also made an inspirational video to show other kids all the fun and amazing things they can do despite having diabetes. Kearstyn is the recipient of the 2013 employee hero honor, which recognizes a child of an Alaska Communications employee.
Jezzroy Gordon-Wolfe, age 17, Fairbanks – With a passion for the community justice system, Jezzroy is involved with the North Star Youth Court in Fairbanks and worked diligently to become a youth court prosecutor. Outside of the courtroom, he spends his time volunteering and fundraising for many local organizations. He's involved in cross-age tutoring for the Literacy Council of Alaska; volunteering at the local Food Bank and the public library; and fundraising for his martial arts studio, the Midnight Sun Run, the Fairbanks Resource Agency, and St. Jude Children's Research Hospital, among other organizations.
Chance Haller, age 16, Seldovia – Chance's commitment to community service sets him apart as a role model for other young people. Inspired by his father's career as the chief of police and volunteer fire chief, Chance has been serving as a volunteer firefighter and emergency trauma technician with the Seldovia Volunteer Fire Department since age 14. He also volunteers his time to help local elementary school kids in the Seldovia Prevention Program, educating kids about drugs, alcohol and other negative influences. Not one to ever slow down, Chance is currently seeking his Firefighter 1 Certification to advance his training and take on more responsibilities at the fire station.
Sarah Mixsell, age 11, Anchorage – On Sarah's ninth birthday, she realized how many clothes and toys she already had, and decided that instead of birthday presents, she would much rather have her friends bring toys to give to children in need. Together, her friends assembled "birthday parties in a bag" so that all of the children at the Abused Women's Aid in Crisis Center in Anchorage could have a present and a birthday celebration of their own. Seeing the positive impact she could make in the lives of others, Sarah was inspired to launch Alaska Kids for Kids, a youth-led nonprofit that encourages kids to make a difference. Now, each year on her birthday, she and her friends spend the day working on a project that helps kids in Alaska.
Cassie Welch, age 9, Anchorage – After being diagnosed with Type 1 diabetes at age eight, Cassie discovered Tour de Cure, a fundraiser for the American Diabetes Association. A longtime bike rider, Cassie recruited 14 friends and family members to ride with her in the 25K ride, raising more than $5,000. This year, Cassie took it to the next level, building a team of 25 riders who collectively raised $7,200 for the cause. She is now training for a 50k Tour de Cure. Cassie also creates "spirit bracelets" to sell at her school, with the proceeds benefiting the American Diabetes Association.
Learn more about the program here.
Contact Alex DeMarban at alex(at)alaskadispatch.com