Helping to promote and preserve the Inuit language in Canada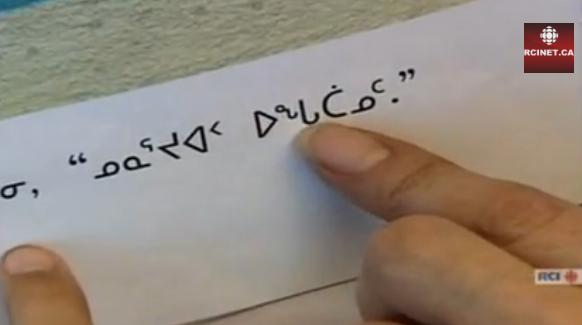 It is one of Canada's oldest languages, and unlike many other Aboriginal languages, Inuktitut, the language spoken by the Inuit across most of Canada's far north seems likely to survive.
George Filotas, wants to help by getting others in the southern regions also interested in what is one of the official languages of the territory of Nunavut, the Northwest Territories, and also spoken in the northern region of Quebec known as Nunavik and the Inuit self-governing region of Nunatsiavut in the province of Newfoundland and Labrador.
Mr Filotas will be teaching classes in Inuktitut as a second language in Montreal this autumn.
Mr Filotas is the first to say that others are doing much more important work to preserve and promote the learning and use of Inuktitut, but courses for non-speakers of this major aboriginal language are rare.
Through the auspices this year of Nunavik's Avataq Cultural Institute, his courses in Montreal have been sought out but by people from a number of backgrounds seeking to learn the language, whether for business reasons, for academic purposes, or those who simply want to learn one of Canada's original languages.
Mr Filotas notes that unlike almost many other languages, Inuktitut has very little history of being taught as a second language, and so it is still "under development" so-to-speak both as his own teaching proceeds, and as others also work on developing and improving ISL (Inuktitut as as Second Language) methods.
He notes for example, there are some Inuktitut sounds that non-speakers have difficulty re-creating, and which vary depending on the phonetics of one's original language.
There are approximately 35,000 Inuktitut speakers across Canada, the majority in Nunavut, but also in the Northwest territories, Yukon, Nunavik –in northern Quebec, and Labrador.
Mr Filotas feels strongly that it is important to make all efforts possible to ensure this language thrives and is passed on the future generations in order for the cohesiveness and unique culture of the Inuit to continue to exist.
To listen to Marc Montgomery's interview with George Filotas, click here
Related Links:
*TUSAALANGA– Inuktitut learning site
* Tusaalanga means "let me hear it" in Inuktitut
Uniting Voices:Inuit Language inTransition, Eye on the Arctic