More Grizzlies and wolves moving north to High Arctic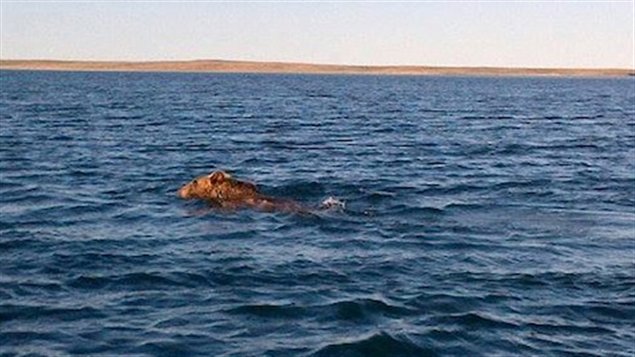 Grizzly bear sightings have been made in the high Arctic on occasion for several decades. But what has been a very rare occurrence in the past, is now becoming much more frequent.
Polar bears have long posed threats to far northern communities but now that concern is greater because of increasing numbers of grizzlies as well.
Some believe that global warming may be playing a factor for the marked increase in grizzlies moving northward as they are not as well adapted to the cold as polar bears. There have even been recent cases of hybrid "Grolar" bears, as male grizzlies go out onto the ice pack and mate with female polar bears.
The Kitikmeot Regional Wildlife Management Board's (KRWMB) annual general meeting was held last week in Cambridge Bay on Victoria Island,
They were told that residents of high Arctic communities, like Gjoa Haven, and Kugluktuk among others, are becoming very concerned about the increasing presence of grizzlies and wolves around their communities. Grizzlies have even been reported coming right into the community of Cambridge Bay, on Victoria Island.
Hunters say spotting grizzlies on Victoria Island is now common as the bears are denning and breeding there, making it their territory.
Willy Aglukkaq of the Gjoa Haven Hunters and Trappers Organization, says the presence of grizzlies has affected caribou and muskox populations,
Aglukkaq, and James Panioyak, vice-chair of the KRWMB, also said the wolf population is "booming" and becoming another big issue in the Western Arctic.
"There was a pack of wolves spotted about seven miles outside the community. And there was like 30 to 35 wolves," Aglukkaq said, adding that he would never see that many wolves in the area a decade ago.
In 2009 the Committee On the Status of Endangered Wildlife in Canada (COSEWIC) estimated there were 800 grizzlies in the Kitikmeot and 200 in the Kivalliq region. In 2012 that estimate had increased to 1500- 2000 animals.