Russia sees Wrangel Island oil and gas potential; Greenpeace eyes an eastern Arctic front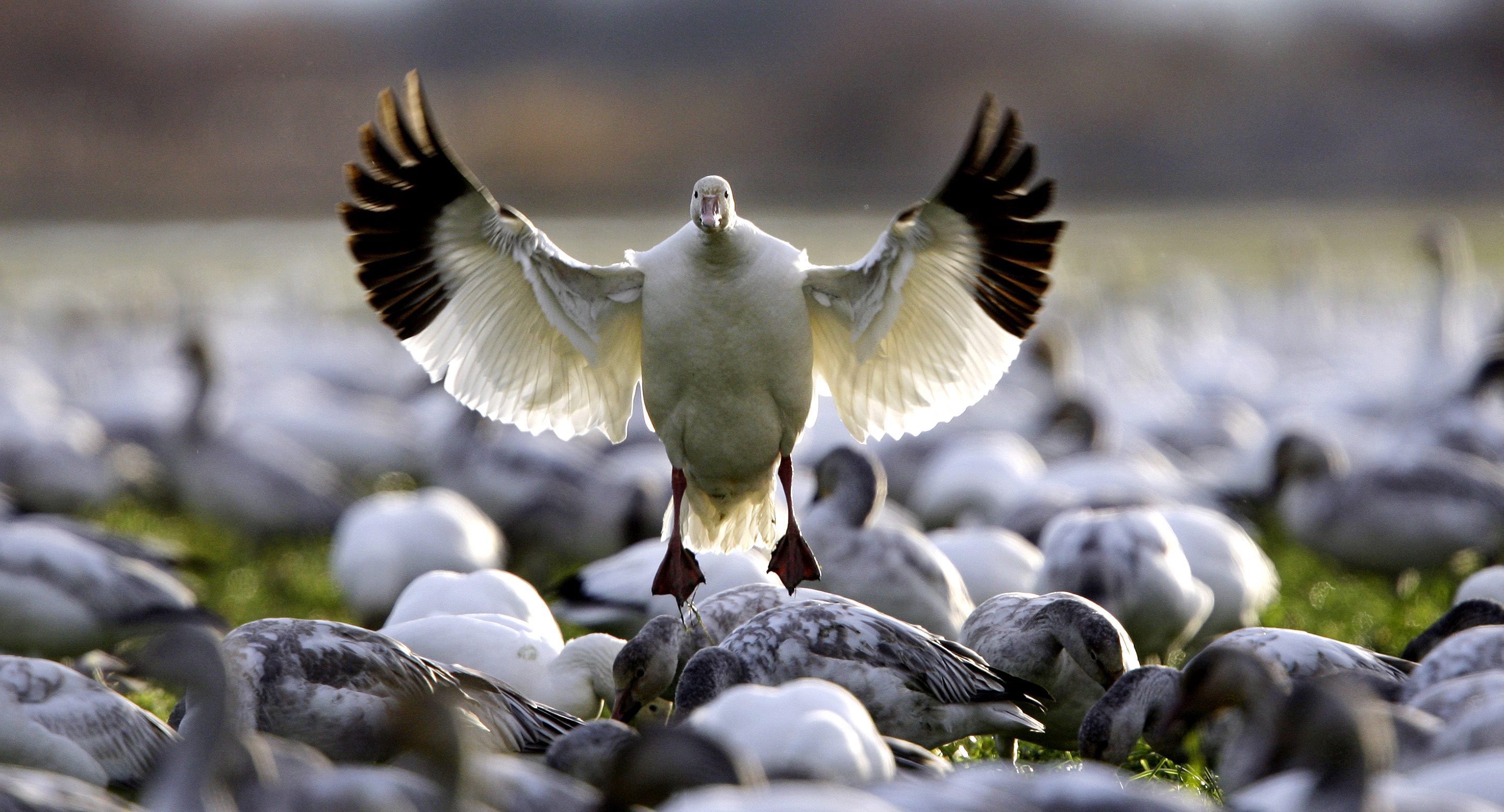 A remote island off northeast Russia has been swept into that nation's campaign to capitalize on the Arctic's potential for untold oil and gas resources.
Long a safe haven for an immense variety of Arctic species, the island hosted the last woolly mammoths to ever walk the earth. The idea that the area could be opened to oil exploration has environmentalists up in arms.
The Great Pyramid of Giza and the monolithic monument Stonehenge were already hundreds of years old when woolly mammoths last trod Russia's Wrangel Island. Bone and fossil discoveries show that mammoths persisted there until as recently as 3,700 years ago, taking refuge on the island in a watery, warmer post-Ice Age world.
Today, Wrangel Island — about the size of Alaska's Prince of Wales Island and perched between the East Siberian and Chukchi Seas 87 miles off the coast of northeastern Russia — is still a refuge for embattled far-north species.
So many polar bears raise their young at Wrangel Island that it has been nicknamed the "polar bear maternity ward." The island also supports the world's largest concentration of Pacific walruses. Asia's only snow goose population breeds there, and the island supports the Chukchi Sea's largest seabird colonies. Since glaciers did not cover Wrangel Island during the last Ice Age, plant types have survived since the Pleistocene era; Wrangel Island has a wider variety of plants — including numerous rare species — than any other similarly-sized area of Arctic tundra.
The Soviet Union designated Wrangel Island as a nature preserve in 1976. In 2004, after the collapse of the Soviet Union, the island was designated a UNESCO World Heritage Site, with special focus on its extraordinary level of animal and plant diversity, the greatest in the high Arctic.
It is "inconceivable" that oil exploration would be allowed near such a site, said Ben Ayliffe, head of Greenpeace's Arctic oil campaign. "It's almost the jewel in the Arctic crown," he said in a telephone interview.
Greenpeace looks eastward
For Greenpeace, enmeshed in a high-profile legal and publicity war with Russian authorities over Arctic development farther west, the specter of oil drilling off Wrangel Island is one in a long list of grievances against the government and the oil industry.
Twenty-eight Greenpeace activists and two journalists jailed in Murmansk and Greenpeace's ship seized after a protest at a Gazprom drill rig in Russia's western Arctic waters. That legal fight could spread to the Russian Far East, Greenpeace leaders say.
Earlier this year, Rosneft — a Russian-government-owned oil company — and Exxon Mobil Corp. announced that they had acquired Chukchi Sea lease blocks off Wrangel Island, as well as other Russian Arctic sites farther east, including designated protected areas. The leases even overlap a buffer zone established in marine waters around Wrangel Island and a tiny neighbor, Herald Island, that is also part of the Wrangel Island Reserve.
"These license blocks are illegal in Russian law and therefore any further permission to explore or drill there will also be illegal," Laura Kenyon, a Moscow-based Arctic campaigner with Greenpeace, said in an email. "Carving out illegal license blocks just next to these areas is an example of how the rush to exploit the Arctic's resources is being carried out regardless of laws or protections already in place, or the consequences for the region."
Like Greenpeace, the World Wildlife Fund noticed the overlap of leases into the Wrangel protective zone, said Margaret Williams, managing director of the organization's Arctic program. She said that WWF has "brought that to the attention" of Russia's ministry of natural resources.
"Hopefully, it's just an administrative oversight," she said.
The companies have no firm plans for development activities near Wrangel, and they will avoid encroachments into protected territory, said Exxon spokesman Patrick McGinn.
"Rosneft and ExxonMobil are aware that Wrangel Island national park and the Severo-Vrangelevsky-1 and Yuzhno-Chukotsky license areas slightly overlap. We also recognize that this Russian national park is a UNESCO world heritage site. While exploration plans for the area are still being developed, Rosneft and ExxonMobil will respect the boundaries of the park as well as the special protection zone that extends 24 miles around the island. ExxonMobil and Rosneft are each committed to operating in an environmentally responsible manner," he said in an email.
Greenpeace leaders are unconvinced.
Putin's government has "a very blasé approach" to environmental protection and an aggressive stance toward development, Ayliffe said. "As far as they're concerned, the Arctic is the future for their oil and gas reserves," he said.
Exploration limited so far
No well has ever been drilled in the Russian Chukchi, making it even less explored than the U.S. Chukchi, where Shell in 2012 started work on the sixth well to be drilled there. Until recently, there appeared to be little interest in the oil Russian Chukchi's oil. A possible pairing of U.S. and Russian lease sales, an idea floated by the two governments in 1994, drew no takers.
Even now, with work underway elsewhere in the Russian Arctic, no one should expect oil exploration anytime soon in the Russian Chukchi, said Matt Berman, a natural-resources expert with the University of Alaska Anchorage's Institute of Social and Economic Research. The area is even more dangerous and difficult than the Alaska Chukchi, he said. It is notorious for being icebound, with ships "continually getting stuck, requiring icebreaker assistance, even when it's supposedly ice-free," he said.
But development in future years is a possibility, given that Russia's continental shelf extends farther than does Alaska's, Berman said.
"There are potentially a lot of opportunities for exploration when and if the ice does melt enough," he said.
While drilling has not yet reached the Russian Chukchi, TGS-NOPEC Geophysical Company conducted seismic surveys in 2006. Based on that project, and on extrapolations from Alaska geologic data, TGS experts from Russia and Norway in 2008 came up with a staggering potential for oil resources — possibly 100 billion barrels of oil equivalent in the Russian Chukchi and East Siberian seas, including a structure known as the Wrangel Arch.
TGS is back in the Chukchi this year, surveying additional areas to add to the 2006 database.
Human element has long been a factor
Oil potential, not wildlife or mammoth-bone discoveries, is invoked in the periodic eruptions from U.S. right-wing politicians who claim the federal government — under Presidents Obama, Clinton or George H.W. Bush — illegally ceded the island to Russia and, before then, the Soviet Union. Tea-party-backed Senate candidate Joe Miller was one of the latest to make that claim.
He was far from the first. Numerous factions from different nations in the past coveted Wrangel Island, a site that had mythological significance even before people knew exactly where it was.
It was named for 19th century Russian navigator Ferdinand Petrovich von Wrangel, who suspected the island existed based only on seasonal bird migrations and stories told by indigenous people of eastern Siberia. British, American, Russian and Canadian mariners explored Wrangel and Herald islands in the late 1800s and early 1900s.
The czarist government staked its claim in 1916, but five years later, a band of colonists assembled by Arctic explorer Vilhjalmur Stefansson arrived to claim the island for Canada and, by extension, the entire English-speaking world.
The "stern adventure" undertaken by his "gallant" colonists turned tragic, with members of the party dying from scurvy and other ailments, he admitted in his 1925 book, "The Adventure of Wrangel Island." Remaining colonists were ejected by the Soviet government in 1924. By then, they had wreaked havoc on the island's wildlife by "hunting everything that could be eaten or skinned," according to a slim, 2001 book about Wrangel Island by Dave Cline, former Alaska director of the Audubon Society.
Negative impacts from humans may have occurred much earlier, though.
The woolly mammoths who lingered on the island, a site without land predators but also with limited food supplies, evolved over time into dwarves, a little over half the size of their Ice Age ancestors. They finally disappeared from the island, and the earth, at roughly the same time that humans are believed to have arrived. Coincidence? Some scientists say not. But whether human hunters finished them off remains an open question, according to the latest studies of mammoth extinction.
Contact Yereth Rosen at yereth@alaskadispatch.com