Poverty, inequality rising in Canada's eastern Arctic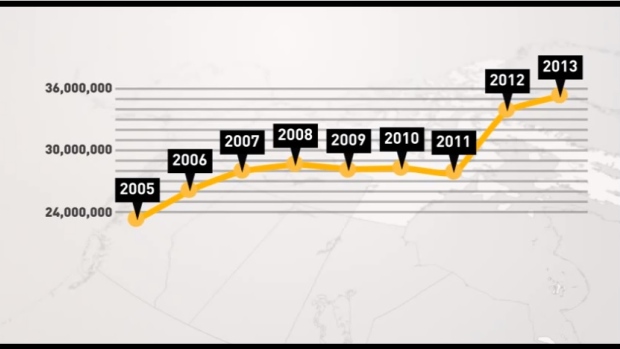 If you live in the community of Resolute Bay in Canada's eastern Arctic territory of Nunavut, it's likely you have a job.
People in the community of 243 currently collect the least amount of social assistance in the territory. In 2012/2013, that worked out to an average of $230 per person, though not everybody collects social assistance.
But life in the Nunavut community of  Kugaaruk is a different story. People in that community collected ten times the amount of social assistance last year, an average of $2,400 per person.
Every year, the Nunavut government hands out almost $36 million on social assistance, in a territory with a population of nearly 34,000. New statistics from the Nunavut Bureau of Statistics break down where that money was spent from 2004-2005 to 2012-2013.
Angela Idlout is the senior administrative officer (SAO) in Resolute. She explains why more people are working in the tiny hamlet. "It's a gateway for most of the researchers that come up and do research up in the High Arctic, that's one of the reasons," she says. "And also, the population's not very big at all here in Resolute, and there's quite a few jobs."
Greg Holitzki is the SAO in Kugaaruk. He knows the numbers don't paint a pretty picture, but says they're working to turn things around.
"We've been working with our economic development officer here to come up with some ideas to maybe start people into business where they can start for themselves."
Few options
Right now, there are few options for people in Kugaaruk who want to work. "We don't have a lot of employers in our community," Holitzki says. "We have one grocery store, and that's the co-op. So most other communities do have two grocery stores, which has more employment for the community."
Kugaaruk has also seen some of the territory's fastest population growth, increasing by 17 per cent between 2006 and 2012.
The department of education publishes statistics on the number of income support recipients each year in its annual report. The latest report, from 2010, shows that 42 per cent of Nunavut households relied on income support in 2009/2010.
The Kitikmeot region is notably poorer than the rest of Nunavut. Fifty-three per cent of households in that region relied on income support in 2009/2010, compared to 40 per cent in the Qikiqtani region and 38 per cent in the Kivalliq region.
The number of people relying on income support has risen significantly in Nunavut since 2005, from 12,392 to 13,716.