Northern cinema celebrated in Yukon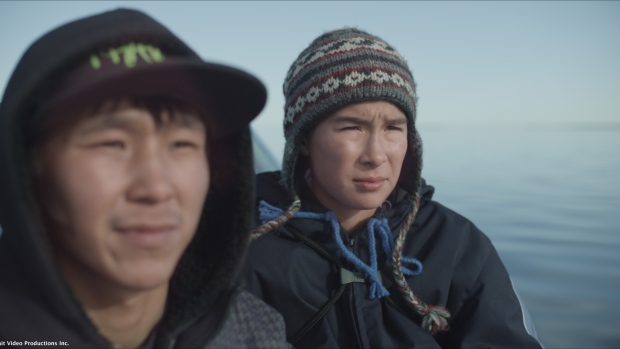 The Available Light Film Festival, now in its twelfth year, began on Sunday in Whitehorse, the capital of Canada's northwestern Yukon territory.
The festival is an annual celebration of Northern cinema, and this year is no exception.
"Every year, the festival programs films from the circumpolar north, and specifically from the Arctic regions of Canada or the subarctic, in our case," said festival director Andrew Connors. "We're opening the festival, appropriately with a documentary about the creation of Nunavut, and that film's called Arctic Defenders."
More than 30 films will be featured throughout the week at the Old Fire Hall.
They include Uvanga, the latest film by the producers of Atanarjuat: The Fast Runner and Before Tomorrow.
Uvanga, or "myself" in English, tells the story of a 14-year-old boy from Montreal who visits Igloolik with his mother to meet the family of his biological father, who died in mysterious circumstances.
"The film is unexpected in a way, because it's actually shot in the height of summer, so it's not what we typically see in the Arctic," Connors says.
Uvanga was named Best Feature at the Yellowknife International Film Festival in October. It's directed by Marie-Hélène Cousineau and Madeleine Piujuq Ivalu, and includes many scenes in Inuktitut.
On Monday, the festival will host the Canadian premiere of the National Film Board documentary Crazywater by the Inuvialuit filmmaker Dennis Allen, who lives in Whitehorse.
The film is billed as "an emotional and revealing exploration of substance abuse among First Nations people in Canada." Allen will be at the screening, along with cinematographer Kirk Tougas and NFB producer Teri Snelgrove.
The festival will also feature Rhymes for Young Ghouls, the acclaimed feature film by Quebec director Jeff Barnaby. His movie has been called a "revenge fantasy thriller." It's about a group of teenagers who resist mandatory attendance at residential school.
Other Northern films this year include a Danish film called Expedition to the End of the World, an adventure story about a ship travelling through Northeastern Greenland, that is said to be "intriguingly original."
The festival also includes workshops and a comedy pitch competition, where Whitehorse actors and comedians will pitch a comedy series to local television.
Related Links:
Canada:Film tells universal story of alienation in Canada's Northwest Territories, CBC News
Finland: Midnight Sun Film Festival lights up Finland's Arctic, Yle News
Greenland: Film explores ties between Inuit in Greenland and Canada, Eye on the Arctic
United States: Film examines legacy of 1950s nuclear project in Arctic Alaska, Alaska Dispatch