Arctic Anglicans seek fresh new recruits in England
Looee Mike was an Anglican Minister in the community of  Pangnirtung, located in Canada's eastern Arctic territory of Nunavut, for 20 years.
Last fall, her husband, Johnny Mike, was elected as a Member of the Nunavut Legislative Assembly, and later selected as Environment Minister.
The couple moved to Iqaluit, Nunavut's capital city, last month, leaving Pangnirtung without a rector for its Anglican church.
That puts the community among 28 others across the Diocese of the Arctic without a full-time minister.
"Now for the last generation or so there's been very few ministers in our diocese of the Arctic because our preachers have either retired or passed on," Mike says.
The Diocese of the Arctic is the Anglican Church of Canada's largest. It includes Canada's Northwest Territories (N.W.T.), all of Nunavut and the Inuit self-governing region of Nunavik in northern Quebec.
The shortage of ministers means scouting for young recruits who can carry on the work of the church.
Lay readers continue regular church services, but they cannot conduct the sacraments of marriage, baptism or holy communion.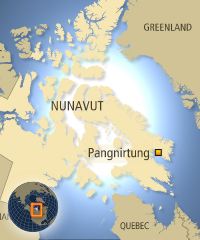 This Easter, the Diocese of the Arctic will bless the bread before it is shipped to churches across the North.
David Parsons is the Bishop of the Diocese, based in Yellowknife, N.W.T.'s capital.
He's currently visiting Canterbury College in London, England, where he and Reverend Darren McCartney are speaking with colleges, hoping to entice new ministers to serve in the Arctic.
"We're talking to students about the possibility of coming over for a short term to maybe look at the Diocese of the Arctic as place they'd maybe like to join us in the ministry," Parsons says.
Parsons calls Mike a "dynamic" Minister.
He says Pangnirtung will not have a new minister before Easter but hopes to fill the position soon.
"The work of every ordained clergy person is to be equipping the people to come along side and serve the people there. So there are people in Pangnirtung who will be doing that now but in the long-run, God willing, we will find another person to come in and help out."
While the well-liked minister has left Pangnirtung, she says she won't be leaving the church behind.
Mike says she expects she'll become a travelling minister for other communities.
Related Links:
Canada:  Anglicans could lose new igloo church in Canadian Arctic, CBC News
Sweden:  Observing Ramadan in the Arctic, Radio Sweden
United States:  Alaska rights organization joins Yupik fishermen's religious defense of fishing citations, Alaska Dispatch