Warm Alaska weather may mean misery for Iditarod racers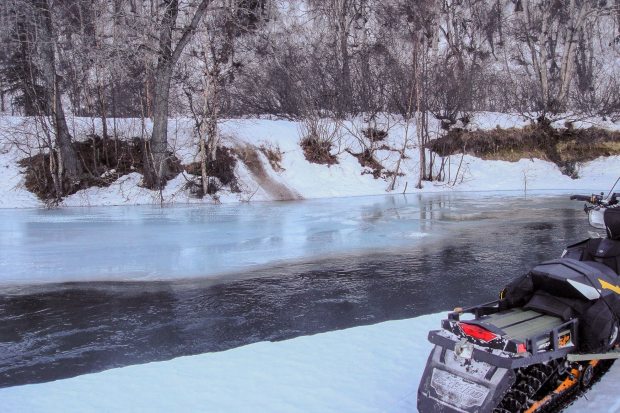 It's going to be very rough for racers on the Iditarod Trail this year.
Warm weather has melted snow all the way from Anchorage to near McGrath, some 300 miles away. While the conditions have left outdoor enthusiasts in Anchorage clutching their ice cleats, it could mean serious trouble in the Alaska wilderness. Ice, open water, missing ice shelves, and bare, frozen ground are what organizers of winter adventure races are facing.
"We expect a high attrition rate," Iron Dog Executive Director Kevin Kastner said this week of his 2,000-mile ultramarathon from Big Lake to Nome to Fairbanks that bills itself as the world's longest and toughest snowmachine race. "I know there will be a lot of broken machines."
So many broken snowmachines that Kastner said he'd be surprised if half the 37 pro-class Iron Dog teams make it to the halfway point of Nome. Like other race organizers, Kastner did not have favorable words when it came to trail conditions. He called the trail "doable."
"We didn't feel it was impassible, so we're going to let them go," he said. "It'll separate the men from the boys, so to speak."
Iron Dog racers zoom off Big Lake in the Matanuska-Susitna Borough north of Anchorage starting 11 a.m. Sunday. Kastner joked that fans might want to bring their ice skates, though. He said Wednesday that two teams have already traded out riders due to injuries, the result of being thrown from their sleds onto hard, frozen ground during training runs.
While physical injuries to racers are a concern, Kastner said the snowmachines will need more finesse than ever. Most racers will have "scrapers," metal bars that kick up snow into the snowmachine rails to keep them lubricated and prevent overheating. Others racers might use common dish soap.
At the end of the day, the goal will be to keep the machine together. Any team that can ride at a high level and need the least amount of time to work on their machine should prevail. "The guy who wrenches the least will win," he said. "It's about knowing how hard you can push it without breaking, both yourself and the equipment."
Icy, snowless trail
While the Iron Dog will start in Southcentral Alaska regardless of conditions, whether the Iditarod Trail Sled Dog race will follow its official route is still yet to be determined. Last week, organizers said they would make a decision Monday afternoon on whether to hold the official restart as normal in Willow or to move it 400 miles north to Fairbanks.
Executive Director Stan Hooley said prolonged stretches of slick river ice near the start in Willow have race organizers most concerned. While the course looked better Wednesday than it did a week ago, he's hoping for more snow cover. "We delayed the decision these last few days to give ourselves time to do what we need to do," Hooley said. "Hoping for snow."
Slick river ice isn't the only problem.
Barry Stanley, a pilot with Denali Flying Service who has helped put in portions of the Iditarod trail for years, said the lack of snow from Rohn to Nikolai — a 75-mile stretch that includes the notoriously snow-barren Farewell Burn — is about the worst he's ever seen. "From (Rohn) on, it's just brown," he said.
Stanley said he flew above the Dalzell Gorge, one of the steepest, most winding parts of the trail. As it zig-zags through the canyon, the trail crosses numerous ice bridges along Dalzell Creek. While some of the ice bridges seemed to have collapsed, Stanley, like Kastner, thought the trail was still "doable."
Cold temperatures have returned to the region, but it's unclear whether the ice bridges have melted and refrozen.
Bureau of Land Management Iditarod National Historic Trail Administrator​ Kevin Keeler said he's been "on the edge of my seat a bit about the snow conditions."
Keeler said those ice bridges — which form as a mixture of snow and tree saplings — require a winter's worth of snow to form. It's unclear whether they have enough.
From the other side of the gorge at Puntilla Lake, home of the Rainy Pass Lodge and checkpoint, lodge owner Steve Perrins said snow in his front yard is about as shallow as he's ever seen in February. Grass is sticking up under spruce trees and picnic tables. While the course is steep and hard, Perrins is optimistic the dog teams will be able to make it over the pass.
Loss of Iditarod visitors could be a blow
Another option for the Iditarod, Keeler noted, would follow what's known as the Ptarmigan Pass/Hell's Gate route to the west of the Dalzell Gorge. That would mean a longer course — it adds about 30 miles — and the place is known for its wretched, windy weather.
"It's called Hell's Gate for a reason," he said.
A move to Fairbanks for the Iditarod would not be unprecedented. In 2003, organizers moved the race north when bad weather presented similar concerns.
Natalie Baumgartner of McGrath hopes that doesn't happen. She said the loss to the community of about 300 would be devastating — both financially and emotionally. Lodging, groceries stores, bars and restaurants would all lose out if the race moves north. The school district aligns their spring break with when the mushers come through town. The community center buzzes with activity from race volunteers, workers and media and that swarm the small Alaska town.
"It's one short time during the year, but everyone counts on it," she said from McGrath Thursday. "If it doesn't happen, it'll hurt."
Contact Suzanna Caldwell at suzanna@alaskadispatch.com or on Google+
Related Links:
Canada: Warm weather threatens ice road in northern Alberta, CBC News
Finland:  Warmer weather and hazardous roads in Finland, Yle News
United States:  Weather takes a toll on wildlife, environment in Alaska, Alaska Dispatch