Thousands gather for Arctic Winter Games in Alaska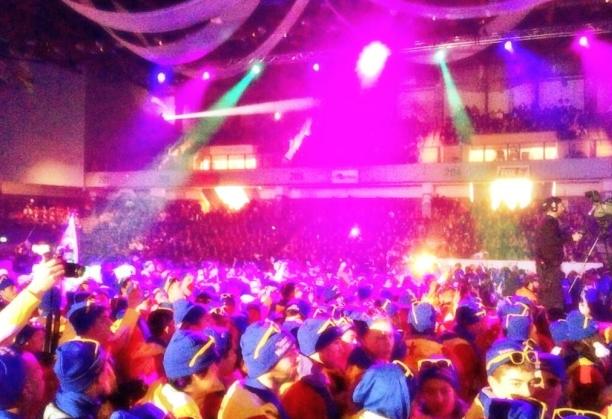 FAIRBANKS — About 2,000 young athletes from around the circumpolar north, along with thousands of supporters and volunteers, kicked off the largest sports and cultural celebration in the history of Fairbanks Sunday.
This is the third time Fairbanks has hosted the Arctic Winter Games and the first time since 1988. Planning began about three years ago and has grown to include more than 50 committees and about 2,500 volunteers.
John Estle, a member of the board of directors of the Fairbanks Host Society, said the week-long gathering offers young people what might be a once-in-a-lifetime experience.
"Having participated in several Olympic Games, I can vouch that for the fact that the AWG experience has a greater impact upon the lives of many of the athletes and cultural representatives than does the Olympic Games on Olympic participants," Estle said in a statement on the AWG website.
Six elementary, middle and high schools have been transformed into hotels for the athletes and coaches. Shuttle buses are transporting students to venues throughout the Fairbanks area for a wide variety of indoor and outdoor sports.
Nine teams representing Alaska, the Yukon, the Northwest Territories, northern Alberta, Nunavut, Nunavik-Quebec, Greenland, the Sapmi region of northern Scandinavia and the Russian province of Yamal are competing in 20 sports.
Competition began Sunday in curling, soccer and volleyball, while a dozen other sports begin Monday. The sports range from hockey and skiing to badminton, basketball and dog mushing. The official opening ceremonies drew thousands of people Sunday night to the Carlson Center, with festivities highlighted by the lighting of the Winter Games cauldron outside the building.
The Alaska team includes 284 members between the ages of 11 and 18, supervised by 47 coaches from across the state. Each of the four Canadian teams is about the same size.
Former Alaska Gov. Wally Hickel, along with Canadian Commissioner of the Yukon James Smith and Commissioner of the Northwest Territories Stuart Hodgson began the games in 1969. Mutual concerns that northern athletes and coaches needed new opportunities to compete led to the first games in Yellowknife, Northwest Territories in 1970.
The scope of the event has expanded since over the last 44 years, but the goal remains the same: "To involve as many athletes as possible either in the Games themselves or in team trials, and to provide a forum of competition for those other than elite athletes with competitive opportunities in the south."
Dermot Cole can be reached at dermot(at)alaskadispatch.com. Follow him on Twitter at @DermotMCole