MV Nunavik the newest icebreaker to hit Arctic waters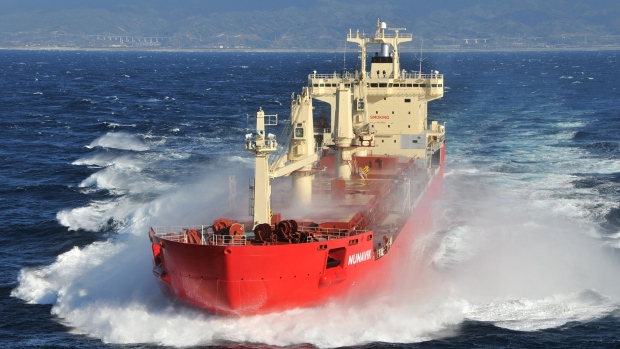 There will be a new icebreaker sailing in Arctic waters this week.
The MV Nunavik is owned by Fednav, an international shipping company based in Montreal.
Thomas Paterson is the company's senior vice-president, responsible for the fleet and the Arctic operations.
"The ship is capable of breaking through 1.5 metres of level ice at three knots continuously, and therefore is able to trade into the Canadian Arctic on a year-round basis."
Paterson says the ship will be used to transport copper and nickel concentrate from Canadian Royalties' Nunavik Nickel mine in Deception Bay to Northern Europe.
On its return voyages, the MV Nunavik will bring equipment and fuel to the mine.
The polar class 4 ship is similar in design to the Umiak I, the Fednav ship that services Vale's Voisey's Bay mine in northern Labrador.
The MV Nunavik was made in Japan specifically for this project and has a crew of about 20.
It will make seven or eight voyages a year.
The ship left the Canadian city of Halifax last week and is scheduled to arrive in Deception Bay later this week.
Related Links:
Finland: Finland looking to supply icebreakers to Russia, Yle News
Russia: Russia, icebreakers and Arctic identity, Blog by Mia Bennett
United States: Alaska, Washington senators introduce amendment to build 4 icebreakers, Alaska Dispatch