Alaska seaweed may be potent weapon against diabetes, obesity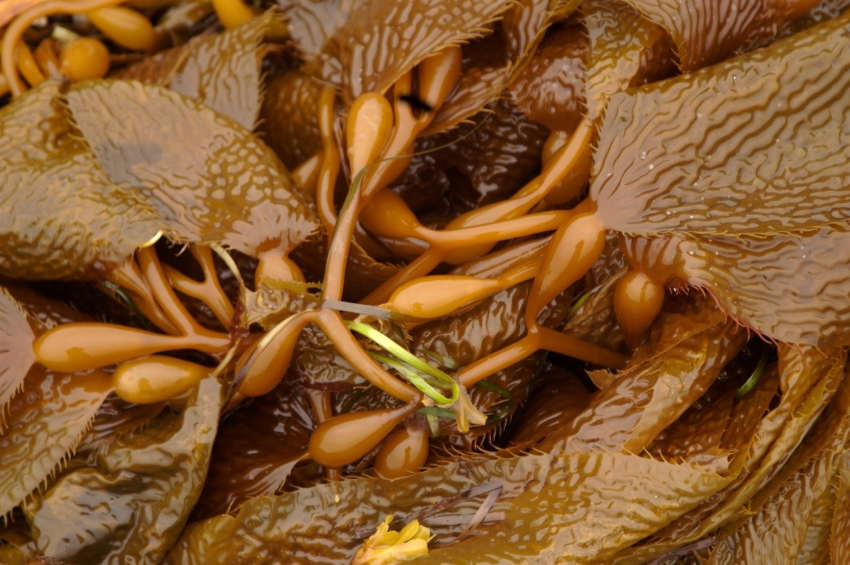 Plants growing in the waters of Southeast Alaska have to be tough to withstand the strong tides, cold temperatures, relentless summer daylight and abundance of plant-nibbling species.
That toughness, it turns out, can also result in health benefits for the people who eat the plants, according to emerging research by scientists at North Carolina State University.
The scientists, at NC State's Plants for Human Health Institute, have found extremely high levels of "bioactive phytochemicals" in edible plants gathered from waters and beaches in the Sitka area.
Superior antioxidant qualities
One study, published last year in the Journal of Agricultural and Food Chemistry, evaluated the chemical compounds of six species of seaweed and one tidal plant. The tested species were four kinds of brown algae — bladderwrack, sugar wrack, kelp and winged kelp — one type of red algae commonly known as laver, one type of green algae commonly known as sea lettuce and a shore plant commonly known as goosetongue.
The results: All seven species contained compounds with potent antioxidant powers, though in varying forms and combinations. For people who eat them, the plants could offer protection against conditions — like obesity, diabetes and cardiovascular diseases — that are linked to oxidative-damaged cells.
The tested plants have antioxidant qualities far superior to commercially harvested vegetables and fruits, said Mary Ann Lila, director of NC State's Plants for Human Health Institute. She is working with doctoral student Joshua Kellogg, the lead researcher on the seaweed project.
"There's nothing in the grocery store that can really compare to the levels that we're seeing in the Alaska seaweed," Lila said.
Traditional foods
These plants are important elements of the traditional diets of some of Alaska's Native peoples. They've been used in soups and stews, dried and sprinkled on fish or other main dishes and eaten alone as crunchy snacks.
But those traditional diets have gradually been replaced by mainstream American diets. And as Alaska Natives have shifted away from traditional foods, their rates of obesity and diabetes have risen, as is generally the case with obesity and diabetes among all Native Americans. That is no coincidence, according to health experts.
The correlation between decreasing consumption of traditional foods and increasing obesity rates brings up another question: Can Alaska seaweed help ward off excess body fat and the ills it causes?
Follow-up research by the NC State scientists suggests that it can.
A poster being presented by Kellogg on Tuesday at a biology conference in San Diego says the antioxidant powers of the tested Alaska seaweeds appear to combat the chronic inflammation that is linked to obesity. Specifically, according to the research, the seaweeds' high levels of plant polyphenols — compounds that defend against ultraviolet radiation — show potential for not only curbing the health problems associated with obesity, but actually obesity itself.
That research is outlined in an abstract published in this month's issue of the Journal of the Federation of American Societies for Experimental Biology. More information on the seaweed research is expected to be published in the future.
Focus on marine plants
There has been past research into terrestrial wild plants and their health benefits to people who eat them — including research into wild Alaska berries by the NC State scientists, among others. But marine plants have received less attention.
In general, wild edible plants provide "a lot more bang for your buck" than do commercially grown crops, Lila said. Wild conditions result in more concentrated nutritional values, she said.
"They are exposed to these elements," she said. For the Alaska sea plants that are being studied, those conditions include the on-and-off water cover, the sun's ultraviolet rays and marine herbivores that the plants must endure, she said.
"This makes it so that they really have to develop chemical defenses," Lila said.
Along with the good news about the Alaska seaweed, the researchers' findings include some cautionary notes about climate impacts. Ocean warming off Alaska has the potential to bring new plant species north, possibly to the detriment of existing seaweed species, the Journal of Agricultural and Food Chemistry paper says. Warmer temperatures might also diminish the plants' antioxidant potency, Lila said.
Contact Yereth Rosen at yereth(at)alaskadispatch.com
Related Links: 
Canada: Plants revived after 400 years in Arctic ice, The Canadian Press
Finland: Worries over berry harvest in North Karelia, Yle News
United States: Foraging for Alaska's wild plants, Alaska Dispatch