Buccaneer files for bankruptcy, ending bid to produce Cook Inlet oil, gas in Alaska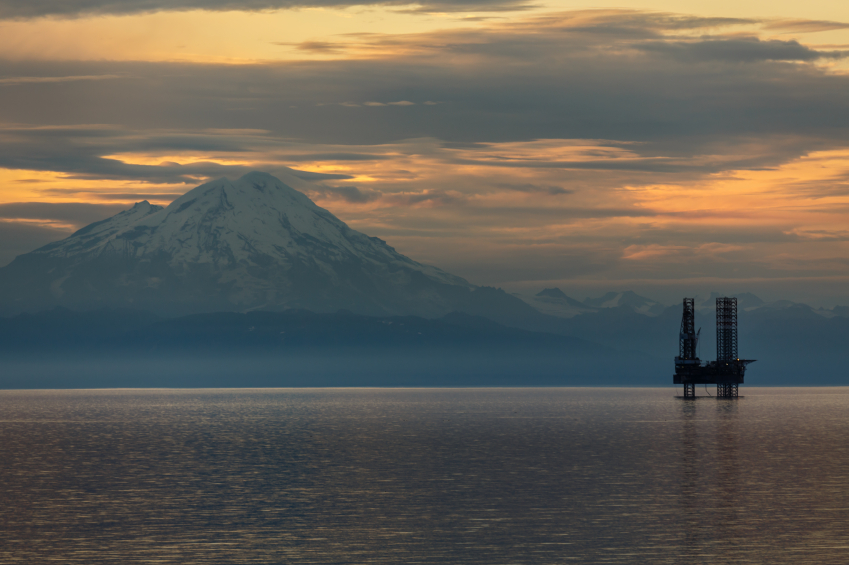 JUNEAU — Buccaneer Resources' bold but risky attempt to jump-start Cook Inlet gas and oil production, backed by state subsidies, has ended in bankruptcy. But state officials say the impact on residents should be minimal.
Buccaneer, owned by Australia's Buccaneer Energy Ltd., filed for bankruptcy protection Saturday in Texas, where its U.S. operations are headquartered. It has sought and been given initial permission to wind down company operations in preparation for selling off its assets. Buccaneer listed liabilities between $50 million and $100 million, and assets of less than $50,000.
Buccaneer has had onshore and offshore gas production in Alaska, but it is best known for its use of the jack-up drill rig Endeavor, which it brought to Cook Inlet with state help. It also has a smaller onshore rig.
Buccaneer appears to have always operated on the edge financially, with little margin for error. But with Endeavor came multiple errors.
A Buccaneer subsidiary, Kenai Offshore Ventures, owns the Endeavor along with partners. It calls the rig a "world-class offshore jack-up rig capable of working in all areas of Cook Inlet or other Alaska outer continental shelf waters." That includes the Beaufort and Chukchi seas, according to the state, which is one of those partners.
 Endeavor delays
But the Endeavor needed extensive upgrades in a Singapore shipyard to be ready for work in Alaska. That and other delays limited what the rig was able to do in Alaska.
In recent months, Buccaneer has been selling off assets while juggling bills and lawsuits, but it couldn't come up with either the cash or credit to keep the drill rigs running.
"The rigs are presently inactive and accordingly represent significant liabilities without providing any offsetting benefits," Buccaneer's filing said.
It's been spending thousands of dollars a day keeping those rigs idle but without being able to get them into operation, Buccaneer said, and it no longer has any realistic hope of doing so.
Among the permissions sought from the bankruptcy court was to get out of contracts to operate the rigs with Alaska companies, including with All American Oilfield Associates, which operated the onshore rig, and Kenai Offshore Ventures, which operated the Endeavor.
The state's business development arm, the Alaska Industrial Development and Export Authority, has an ownership stake in Kenai Offshore Ventures, according to the authority's website as well as Buccaneer's. But the deal's third partner, Ezion Holdings of Singapore, said in its annual report that it now fully owns Kenai Offshore Ventures.
AIDEA program officer Mike Catsi said Monday he could only respond to written questions and the answers would require legal review. He did not respond to questions submitted by the Alaska Dispatch.
Difficulties "unfortunate"
Department of Natural Resources Commissioner Joe Balash called Buccaneer's difficulties "unfortunate" but said they might have only a small impact in Alaska.
"This is a consequence of an eager company that came in and saw all of the opportunity that Alaska generally and Cook Inlet in particular presented, and got itself overextended," he said.
Alaska did what it could to first bring Buccaneer to Alaska and keep it going by offering generous tax credits and tax deductions intended to spur interest in Cook Inlet at a time when the Anchorage area was thought to be facing critical natural gas shortages.
Alaska had initially offered as much as $25 million in tax credits to the first company to get a jack-up rig in operation, something that Buccaneer appears to have qualified for.
The company also said it was able to take advantage of other general tax credits, including $9.8 million under Alaska's Clear and Equitable Share Act for its successful Cosmopolitan No. 1 well in Cook Inlet, and another $3.3 million in a related tax refund. An additional $6 million tax credit came from non-Cosmopolitan exploration.
Buccaneer has already sold Cosmopolitan No. 1 for $41 million, cash that helped keep the company going earlier this year.
As the company's finances deteriorated, it wound up with internal dissension among top leaders as well. This year, Buccaneer's board suspended and then terminated CEO Curtis Burton, who fired back by calling the company's board "dysfunctional."
Possible purchase of Buccaneer's Alaska assets?
Buccaneer Energy Ltd. was publicly traded on the Australian Stock Exchange until trading of its shares was suspended earlier this year.
Balash said he hoped Buccaneer's assets would continue to work in Cook Inlet; the new owners of Cosmopolitan No. 1 have said they'd like to continue work in the Inlet.
Companies involved in Cook Inlet leasing and exploration either did not respond to questions or declined comment about the possible purchase of Buccaneer's Alaska assets.
With recent successes in Cook Inlet exploration and production, Balash said, he didn't expect the state to face natural gas production problems related to the bankruptcy.
"The good news is, it's summertime. Even if there's a disruption, there's a lot of slack in the system right now in terms of delivering gas volumes. But I don't expect any disruption at all," he said.
Contact Pat Forgey at pat(at)alaskadispatch.com
Related stories from around the Arctic:
Canada: Oil and gas consultations in Canada's eastern Arctic next week, CBC News
Norway:  Norway gives 29 companies oil and gas licenses, mostly in Arctic region, The Associated Press
Russia: Putin signs law allowing oil and gas corporations to defend infrastructure, Blog by Mia Bennett
United States: Cook Inlet activity suggests boosted oil and gas production may be on the way for Alaska, Alaska Dispatch