Norway-Russia fishery expedition finds abundance of cod, decline in other species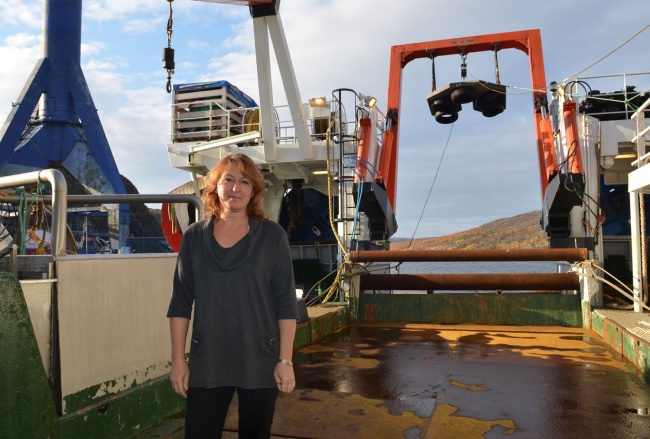 KIRKENES. This year's latest joint Norwegian-Russian fishery expedition shows cod in abundance, but a major decline in herring, haddock and capelin.
The autumn expeditions conducted in cooperation between the Norwegian Institute of Marine Research and the Russian Pinro form a key part of the joint Norwegian-Russian fishery management regime for the Barents Sea.
This year's expedition was conduced over 1,5 month by a total of four vessels, of them three Norwegian. A great variety of marine species were studied during the expeditions.
"We have a very well-functioning system for exchange of fishery data between the countries", Elena Eriksen from the Marine Research Institute says to BarentsObserver at a press conference organized at the "Johan Hjort" research vessel. Norway and Russia have conducted joint fishery research expeditions in the Barents Sea since 1965, and the data are vital for the setting of catch quotas by the Joint Norwegian-Russian Fishery Commission. "These fishery expeditions are among the best in the world", Eriksen underlines. A total of 21000 fish samples were examined during the mission, which lasted more than 7300 hours and covered as much as 9050 nautic miles.
Polar cod in serious situation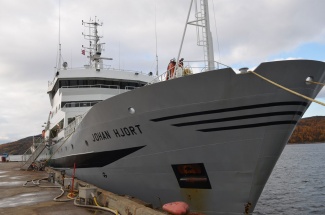 The collected data indicated that the quantities of cod in the Barents Sea is the second highest ever observed. However, the situation for herring and capelin appears negative and far below expectations. The most serious situation is for the polar cod, which is about to enter a critical stage, the Marine Research Institute says.
Data timelines show a trend with warmer Arctic waters and migration of fish. Over the last years, atlantic cod has moved towards the north while the arctic cod is either moving out of the Barents Sea or experiencing a major stock decrease. This year however, the researchers were unable to conduct research in the northernmost part of the Barents Sea because of big volumes of ice. "Originally we wanted to move all the way to the 83rd degree north, but we made it only to the 78th degree", Elena Eriksen says. The reason for the big ice concentraton in the area is this year's wind conditions, not colder weather, she explains.
Related stories from around the North:
Canada: Is a fishing boom in the Arctic a sure thing?, Eye on the Arctic
Finland:  Fishing-net death toll of endangered seals continues to rise in Finland, Yle New
Sweden:  Record numbers for Swedish wild salmon, Radio Sweden
United States: Unusual species in Alaska waters indicate parts of Pacific warming dramatically, Alaska Dispatch