Alaska marine debris experts call for tighter regulation and more cleanup funding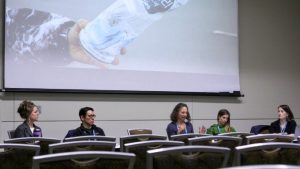 Trawl nets, buoys, even boats and fragments of buildings: these are some types of marine debris that wash up on Alaska's coasts every day. 
"In one cleanup, with a crew of about 10 people on St. Paul Island, in any given year, we can pull about 20,000 or more pounds of debris in a week off of our shorelines," said Lauren Divine, director of the Ecosystem Conservation Office on the remote Bering Sea island of St. Paul.
Marine debris is a never-ending problem for coastal communities like hers. Divine spoke at a marine debris panel at the Arctic Encounter conference in Anchorage last week.
Another panelist, Fred Jay Ivanoff, senior crew leader for Norton Sound Economic Development Corporation, remembered a cleanup at a camp 50 miles east of Savoonga on St. Lawrence Island several years ago.
"After that week they went home and then a different family went out to their camp over the weekend, and they brought back a table full of [trash] and they asked 'did you guys even clean the beach?' That was in a couple of days," Ivanoff said.
Since 2006, NOAA has funded cleanup of more than 900 metric tons of trash from Alaska's 66,000 miles of coastline.
The trash piling up on rural coastal beaches isn't local, Divine and Ivanoff explained. Divine said the majority of debris that washes ashore is fishing-related — often big, heavy pieces of gear.
And coordinating teams to collect and sort the debris, plus a barge to pick it up and take it to a mainland landfill or recycling center is an expensive logistical nightmare.
"All of the time, the burden for these cleanups is put on the communities," Divine said.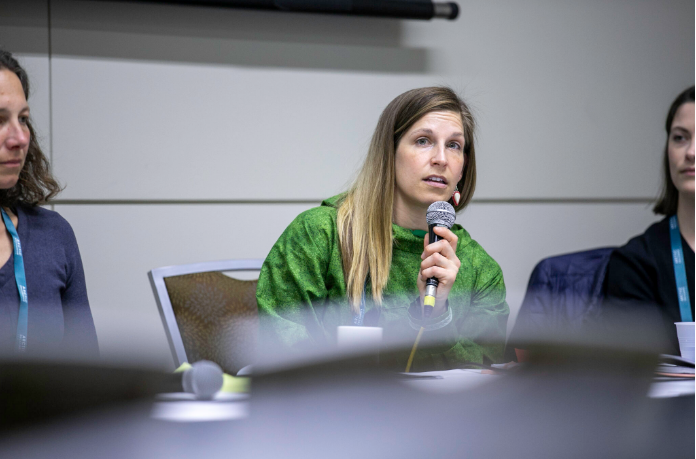 Funding these efforts is also a major challenge. NOAA supplies some grants to fund cleanup efforts, and an Anchorage-based environmental nonprofit called Zender Environmental has helped to coordinate pickups all over Alaska through its Backhaul Alaska program.
"There isn't enough funding available for what is needed to really address the issue," said Kristina Tirman, the Sitka-based Alaska marine debris manager for Ocean Conservancy, which gives out small grants up to $10,000 to fund cleanup projects.
There's also not a clear way to hold anyone responsible for the trash that washes up onshore, the panelists said. NOAA fisheries biologist Erika Ammann said as shipping traffic increases off Alaska's coasts and the mariculture industry expands, the focus should be on preventing marine debris at its source.
The International Maritime Organization forbids ships from littering all types of garbage while at sea. Ammann said local regulation is necessary too.
"I think now is the time to make sure that we have regulations or permitting requirements in place, so that they don't contribute to the problem," she said. "Maybe part of the permit should be that you make sure every float that you have is accounted for at all times, so that if it gets lost, it's your responsibility."
Ammann said NOAA is helping start a Marine Debris Action Plan for Alaska to educate rural cleanup coordinators and connect them with resources. She's also hoping the 2021 bipartisan infrastructure law will help make more money available to fund marine debris cleanup.
Related stories from around the North:
Canada: Carcross/Tagish First Nation in Yukon celebrates commitment to protecting its river, CBC News
Finland: What a Saami-led salmon rewilding project in Arctic Finland can teach us about Indigenous science, Eye on the Arctic
Greenland: Glowing snailfish full of antifreeze proteins found off coast of Greenland, Eye on the Arctic
United States: Ice decline in Bering Sea could affect carbon export and fish ranges, Eye on the Arctic