Lego cuts ties with Shell after Greenpeace campaign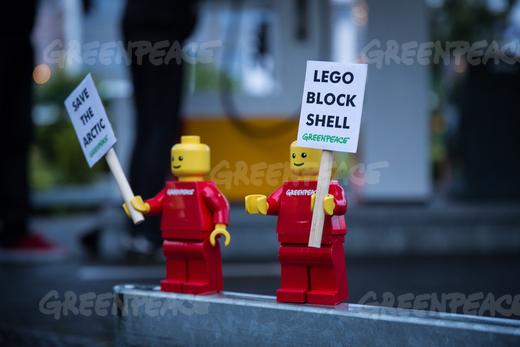 Danish toy-maker Lego announced on Wednesday it was cutting ties with Royal Dutch Shell after an extended campaign by the environmental group Greenpeace.
"The Greenpeace campaign uses the Lego brand to target Shell," said Jørgen Vig Knudstorp, the President and Chief Executive Officer of the LEGO Group, in a news release.  "As we have stated before, we firmly believe Greenpeace ought to have a direct conversation with Shell.The Lego brand, and everyone who enjoys creative play, should never have become part of Greenpeace's dispute with Shell."
While Lego will honour its remaining contract with Shell, it will not renew the partnership once the contract has ended.
"We do not agree with the tactics used by Greenpeace that may have created misunderstandings among our stakeholders about the way we operate; and we want to ensure that our attention is not diverted from our commitment to delivering creative and inspiring play experiences," Knudstorp said.
'A major blow to Shell'
Greenpeace has long campaigned against Shell's drilling activities in the Arctic, concerned with how a potential oil spill could impact nature and wildlife in the area.
Lego's partnership with Shell  involved Shell-branded toy kits along with promotional items at gas stations.
Over the last three months, a campaign against the partnership was launched by Greenpeace. A video posted on YouTube by Greenpeace, depicting an Arctic landscape built out of Lego being drowned by an oil spill, garnered almost 6 million views.
On Thursday, Greenpeace praised Lego's decision.
"This is a major blow to Shell," said Alex Speers-Roesch, an Arctic campaign spokesperson at Greenpeace Canada,  in a news release.  "It desperately needs partners like LEGO to help give it the appearance of respectability and repair the major brand damage it suffered after its last Arctic misadventure.
"Lego's withdrawal from a 50 year relationship with Shell clearly shows that strategy will not work," he said.
Shell  has onshore and offshore experience in several northern regions including Canada, Alaska, Norway and Russia.
Drilling activities in Arctic Alaska have been troubled in recent years: 2012 was marked by mechanical issues and weather challenges including the grounding of the Kulluk drill ship. Shell's oil exploration  in Alaska's Arctic was called off for the 2014 drilling season.
Related stories from around the North:
Canada: Canada ponders exceptions to relief well rule for Arctic oil drilling, Alaska Dispatch
Norway: No Norwegian services to Russian Arctic offshore oil, Barents Observer
Russia: Disappointing result in Rosneft's first Norwegian well, Barents Observer
United States: Shell's new Chukchi plan: Two rigs drilling wells at the same time, Alaska Dispatch