Struggle to control dangerous stray dogs across northern Canada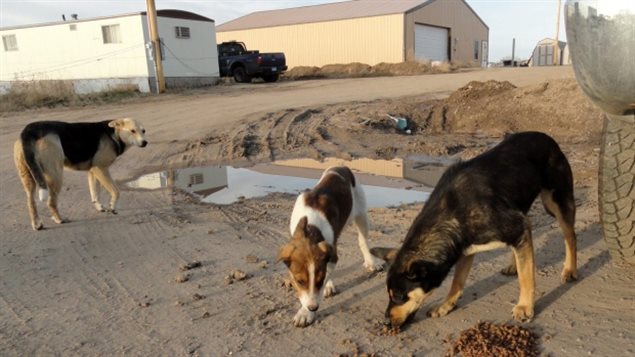 It's been a problem for many years in small communities all across far northern Canada.
Stray pets and semi-wild dogs roam many communities and have occasionally caused serious injury and death.
In January 2010, a 10-year old boy in the Cree community of Canoe Lake, Saskatchewan was mauled to death by a pack of dogs.
In March of 2013 a young man who had been drinking and may have frozen to death, was found partially eaten by dogs on an aboriginal reserve about 150 km north of Montreal, Quebec.
In the far northern Manitoba aboriginal community of Lac Brochet, a 10-year old girl was mauled to death by two dogs in April of this year,
In 2013 in Henderson Corner, Yukon, a man said on two separate occasions feral dogs attacked his four-year old son who was playing in the yard outside.
These are but a few of many incidents where out-of-control dog populations, and "pet" dogs left to roam communities have caused serious concerns especially as they can become aggressive when there is a lack of food.
Changing strategies
Occasional dog culling is becoming a less desired option in recent times. So to deal with this serious situation, sterilization programmes are being carried out by volunteers who travel to northern regions where veterinary services are usually non-existent.
This weekend another team will head to the northern Quebec aboriginal community of Opitciwan as the second phase of the effort to sterilize some 300 dogs in that remote reserve, seen as a humane way to control the dog population.
A team of volunteers and veterinarians with Humane Society International Canada and Chiots Nordiques will travel to the reserve about 500 kilometres north of Quebec City to sterilize about 100 dogs not treated in the first phase.
Similar programmes have been undertaken elsewhere in the country, along with stricter reserve and community regulation in attempts to control the stray dog situation.
Related stories from around the North:
Canada:  Loose Sled Dogs Raise Safety Concerns in Iqaluit, CBC News
Finland: Dog owners warned as wolves roam towns in east Finland, Yle News
Norway: Pet passports needed between Sweden and Norway, Radio Sweden