Duma foreign affairs committee chief: Finland willing to end sanctions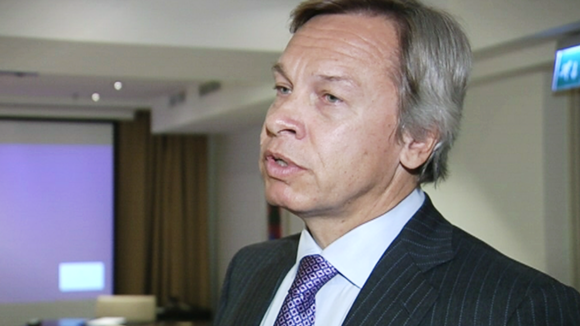 Finland is suffering economically as a result of sanctions imposed against Russia by the European Union and is willing to dismantle them, according to the head of the Russian parliament's foreign affairs committee Alexei Pushkov.
The Duma committee chair offered his assessment to Russian state media Wednesday after meeting Finnish politicians in Helsinki earlier this week.
The chair of the Russian Duma's foreign affairs committee, Alexei Pushkov, has concluded that there's some appetite in Finland for dismantling EU economic sanctions imposed against Russia over its role in Ukraine. Pushkov expressed his view in an interview with the Russian state news agency Tass upon his return to Moscow following a visit to Helsinki.
"The Finnish political class and business structures would be interested in defusing tensions and the start of revision of the economic sanctions," Pushkov said to the state organ Wednesday, saying that his Finnish colleagues had reported a substantial fall in Russian tourist visits.
During his two-day sojourn Pushkov met with Speaker of Parliament Eero Heinäluoma, Parliamentary foreign affairs committee head and Finns Party head Timo Soini and Centre Party chair Juha Sipilä, among others.
According to the Russian legislator, Finland's position on the sanctions régime is grounded in concerns about exports to Russia.
"The reduced export prospects resulting from EU sanctions and Russian counter-sanctions are affecting Finland most of all the EU countries," Pushkov claimed.
Pushkov: EU solidarity a problem
According to the high-ranking Duma member, Austria and other EU members are also in line with the Finnish position he outlined. He said because of these countries' opposition, additional sanctions will not be discussed at next week's meeting of EU foreign ministers.
Pushkov admitted to Tass that Finland doesn't have much room to manoeuvre in terms of lifting the sanctions.
"The so-called EU solidarity is greatly complicating the chances of mitigating the sanctions at the moment," Pushkov charged.
Pushkov also noted the intensifying discussion over Finnish membership in the NATO military alliance.
He pointed to "a different viewpoint represented by a group of politicians of Euro-Atlantic orientation who believe the current situation should make the Finnish society face the issue of the country's possible entry to NATO."
However he said that a majority of Finns oppose NATO membership.
"Although the country's population is on the whole still against giving up neutral status or moving toward the alliance," Pushkov remarked.
Related stories from around the North:
Canada:  Will Russia's actions in Ukraine affect relations in the Arctic Council?, Eye on the Arctic
Finland:  "Cold war looming, sanctions our best bet," says Finland's PM, Yle News
Norway:  Russian Su-34 fighter bombers flying off Norway, Barents Observer
Russia:  Vestiges of the Berlin Wall in the Arctic, Blog by Mia Bennett
Sweden: Report calls for a study on Sweden joining NATO, Radio Sweden
United States:  Pentagon: Climate change is national security risk, Barents Observer