Finland appreciated in Karelia despite sanctions, interviews show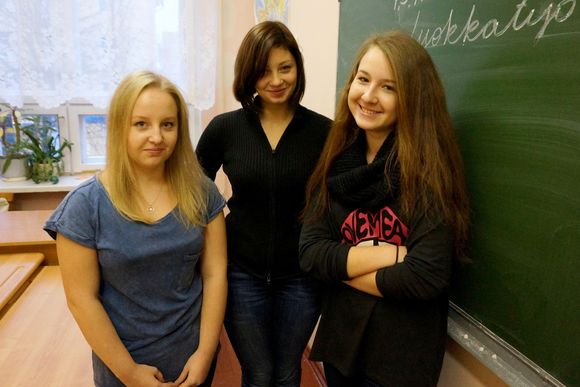 The tightening sanctions measures affecting Russian-Finnish relations have had minimal impact on Karelian Russians, according to interviews with citizens of Petrozavodsk, the capital of the Republic of Karelia.
Grocery stores in Petrozavodsk no longer carry Finnish dairy products due to the sanctions imposed by Russia this past year. However, people milling about in the capital city's streets seem to have only good things to say about Finland itself.
"We like Finland," Aleksandr Kurotskin laughs.
"All is well," his wife Jelena says.
"I have good feelings about Finland, and I've always been glad to visit there," Tatjana Arhipova says.
Sergei Nikitin answer's Yle's questions by saying he thinks the sanctions measures between Russia and the EU are not good policy. But he doesn't criticise Finland for the measures or their repercussions, either.
"Sanctions mean that relations are getting more tight-lipped," he says. "Finland is insecure, but so is Russia."
Finland "best country" for some Karelian youths
A large sign outside the Finno-Ugric School in Petrozavodsk says "Welcome to school" in Finnish; the school teaches Finnish as it always has, and the older students express clear views on their western neighbour.
"I like Finland, because I think it is a great country. It's the best country in the world," Anastasia Pilija says in fluent Finnish.
Her friend Anastasia Titova agrees. She has a grandmother and an uncle who both live in Finland.
A third student, also named Anastasia, is the only one of the group who is not planning to continue her studies in Finland.
"I like Russia," Anastasia Tuulas says. "My friends and family are here, and I don't want to leave."
The other two say they not only want to leave, but are not likely to return once they're gone.
"Russia has a lot of problems," Pilija says. "My life here is not very good."
Anastasia Titova says she wants to live her entire life in Finland.
"It's better there than it is here in Russia," she says.
Sanctions raise conflicting emotions
People in Karelia are not fond of the sanctions that affect their daily lives, but neither do they see Finland and Russia as being in separate camps.
"I think we are on the same side," Tuulas says. "The argument is between politicians, not regular people."
Larissa Fedorets, who teaches history and Finnish at the Finno-Ugric School, says she is upset about the political atmosphere.
"I wish it were all a bad dream," she says. "But it may be that it is the EU's only chance to affect the Russian president and his government."
Related stories from around the North:
Canada:  Will Russia's actions in Ukraine affect relations in the Arctic Council?, Eye on the Arctic
Finland:  Duma foreign affairs committee chief: Finland willing to end sanctions, Yle News
Norway:  Russian Su-34 fighter bombers flying off Norway, Barents Observer
Russia:  Vestiges of the Berlin Wall in the Arctic, Blog by Mia Bennett
Sweden: Report calls for a study on Sweden joining NATO, Radio Sweden
United States:  Pentagon: Climate change is national security risk, Barents Observer