Blog: A look at Greenland's upcoming parliamentary elections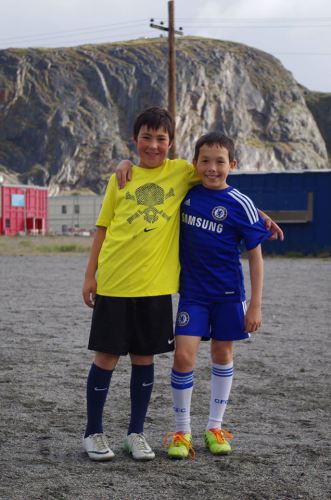 On November 28, Greenlanders will go to the polls to vote in a general election for the second time in less than two years.
In early October, the snap election was called after the former prime minister, Aleqa Hammond, resigned due to a scandal involving misspending of approximately $18,000 worth of public funds. She is accused of misusing these funds to pay for plane tickets for her and her family, hotel rooms, and minibar charges.
It's a long fall from grace for the woman who was Greenland's first female prime minister. In March 2013, Hammond led the opposition party to win 14 of the 31 seats in Inatsisartut, Greenland's parliament. Hammond's party ousted the incumbent Inuit Ataqatigiit party and the prime minister at the time, Kuupik Kleist. Two seats short of a majority, Siumut formed a coalition with Solidarity and the Inuit Party (which didn't stay for long in the coalition).
Siumut had run heavily on a campaign promoting independence from Denmark and the lifting of a ban on uranium mining – two promises that the country's relatively new slogan, "Pioneering Greenland" (see, for instance, this promotional video), encapsulates. While independence may have now receded even farther into the distance given the political upheaval, in October 2013, Siumut did follow through with its promise to overturn the longstanding ban. This was a crucial step for moving forward with developing rare earth minerals, since most of the deposits are tied up with uranium.
For updates on the elections in Greenland, check out the following resources (more updates forthcoming):
News
Twitter
@saraolsvig – Leader of IA
@madsnyvold – Journalist for Sermitsiaq based in Nuuk.
Hashtags: #glpol #qin14 #glvalg14
With uranium mining allowed, some corporate interest and a great deal more media hype trumpeted Greenland as the next mining frontier. The Wall Street Journal announced, "Greenland Opens Door to Mining," while Foreign Affairs published a splashy story called "Greenland's Rare Earths Gold Rush." The stories were more than hot air. TheKvanefjeld project in southern Greenland holds vast reserves of rare earth oxides, and Australian-based Greenland Minerals and Energy Limited (GME) has already invested $75 million into the project over the past six years (source). Under certain conditions, Greenland could become an important alternative supplier of rare earth minerals, undermining China's 90% dominance of the trade. The Arctic island is also home to significant deposits of gold, ruby, and iron.
Hammond's heavy promotion of Greenland as a source of minerals for the rest of the world, however, brought a great deal of disapproval onto her government. Critics accused her of not involving the people enough in a decision that directly affects the future of their environment. Clearly, many in Greenland were upset with Hammond and Siumut's policies: Two of the biggest protests ever in Nuuk were in the lead-up to the parliamentary vote on the uranium mining ban and in the wake of Hammond's alleged abuse of public funds.
Some dissenters believe that Greenland would be entering into a Faustian bargain if it were to develop its natural resources in order to become economically self-sufficient and independent from Denmark. To replace the DKK 3.2 billion bloc grant that comes from Copenhagen every year, Greenland would have to develop a significant amount of its resources at high commodity prices – a gamble that the experience of countries dependent on primary product exports, like Russia, show is a risky bet. The country might become independent from Denmark, but it would become dependent on the fluctuations of global commodity cycles. Others in Greenland would like to see their country fully become part of the globalized world and think that the bet is worth taking.
Opposition party leads the polls
Right now, the opposition party, Inuit Ataqatigiit (IA), is expected to win the most votes, although it's hard to predict whether it will be able to take home the 16 seats needed to obtain a parliamentary majority. Using polling data taken in September, the London School of Economics media blog predicts that IA will take home 13 seats and Siumut 12.Nunatsiaq Online posits that IA could win 14 to 16 seats. If IA wins, leader Sara Olsvig has promised to put the uranium mining ban question to the people in a referendum, although she has made it no secret that her party is opposed in principle to uranium mining. In fact, the gap between IA and Siumut may be closing now after Olsvig's comments in an interview with Danish news site politiken.dk were interpreted to mean that she would not respect the referendum if the people voted to allow uranium mining – words she is now trying to take back (article in Danish).
Who will watch and who to watch
Elections in Greenland will be watched from afar by a wide range of people. There's the politicians in Copenhagen, for one, and mining companies and investors as far away as Australia. GME (ASX: GGG)'s stock price closely reflects outcomes of elections and policy decisions in Greenland. Its value has tumbled by half since the revelations in Nuuk regarding Hammond in September 2014, and even more dramatically when compared to the highs of Siumut's victory in March 2013. Then, GGG was worth 40 cents a share. Now, it's worth 7 cents a share.
Last but not least, there's even a Greenlandic expat community in Israel that will possibly tune into the results over falafels instead of musk ox.  The Danish Embassy in Tel Aviv was accepting postal votes from eligible voters through November 19 (bonus points to those who mailed their ballots with the special Israel-Greenland Joint Issue postage stamps). So as millions of Americans recover from their Thanksgiving meals and stand in line at four in the morning for items like iPhones and televisions, items, thousands of Greenlanders will be making their way to vote on the future of the world's largest island, which could one day supply those rare earth metals needed to make Black Friday's consumer goods. Somehow, the single polling station in Nuuk will manage.
This post first appeared on Cryopolitics, an Arctic News and Analysis blog.

Related stories from around the North:
Canada:  Canada's Fair Elections Act could discourage voting in North, CBC News
Greenland: Greenland's political crisis concerns locals and foreign investors alike, Blog by Mia Bennett
Norway: Conservative victory in Norway: What does it mean for the Arctic?, Blog by Mia Bennett
Sweden:  Land, water rights big issues in Sweden's Sami elections, Radio Sweden
United States: Judge orders state to add language help for voters in Alaska villages, Alaska Dispatch