Canada slow to deliver on Arctic commitments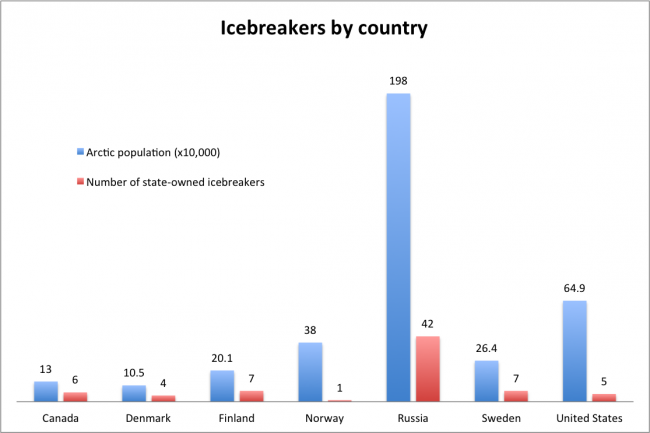 Canada has fallen behind on meeting its promised Arctic investments, even while new data show its aggregate public spending in the three northern territories is among the highest in the world.
The Canadian government has put part of its Arctic plans on ice, cutting back the number and capability of its promised ships and backtracking on a major northern port construction project. The Harry DeWolf Class Arctic and offshore patrol ships, first promised in 2007, have been mired in delays and revisions, while the only deepwater port in the Canadian Arctic has been dramatically reduced in capability and construction has slowed to a crawl.
The Canadian Press reported in October the government plans to scale back the original six-to-eight ship order to five, although the government and the company responsible, Irving Shipbuilding, has since denied the report.
BarentsObserver's requests for comment from the Prime Minister's office were not answered.
'Canada responding less well'
The Canadian rumour comes on the heels of several statements this month from Russian officials pledging more equipment, infrastructure and military personnel to the Russian Arctic.
"Every country has different challenges, but Canada certainly is responding less well to its challenges than any other Arctic country," says Michael Byers, Canada Research Chair in Global Politics and International Law.
"We are comparing apples and oranges, but it is clear that one of the apples is rotting and the rest of the fruit basket is looking ok."
All eight circumpolar countries – Canada, United States, Sweden, Finland, Norway, Denmark, Iceland and Russia – have made the Arctic a more prominent focus in national policy lately, while some countries outside the Arctic, like China, are taking an interest in the North as well.
Russia: Over 40 icebreakers
However, a circumpolar data comparison has shown that some of the countries are a lot of Arctic-talk and very little Arctic-action.
To date Russia is eclipsing the other Arctic nations with over 40 icebreakers, and the world's only nuclear icebreakers, which are capable of reaching the North Pole. Meanwhile, Canada's new ships have been called "slushbreakers" due to their inability to operate in the Arctic outside of the summer months – or in thick or multi-year ice.
Recently the Canadian Parliamentary Budget Office estimated that only four of the ships would be built for the $3.1 billion (CAD) budget, giving the project a 50 per cent chance of being completed on time.
"[I]t is more likely that, if there are no delays, the current budget will allow for four ships to be built," the Office noted in its report. "However, any delay over a year would mean that the budget would likely only be sufficient to build three ships."
The vessels are modeled after Norway's largest naval ship, the NoCGV Svalbard, although some of the Svalbard's icebreaking features have been removed.
"It's striking how that plan has been scaled back over the course of the last seven years," says Byers. "It indicates two things: first of all the Arctic is not an actual priority for the Harper government. The second thing it indicates is that the Harper government is not concerned about interstate security in the Arctic."
Canadian representatives in Norway, most recently Ambassador David Sproule, have visited northern Norway and reaffirmed Canada's commitment to working "collaboratively" to strengthen circumpolar relations and development.
"The north for Norway is very much seen as the way as the future," said Sproule, although he also pointed to the vastness of the Canadian North as being a major stumbling block for development plans.
Lack of Canadian presence
After a tense summer that saw Norway call on other Arctic countries to boost their northern presence in the wake of Russia's activity in the Ukraine, the maple leaf has been conspicuously absent from the region save for a highly publicized expedition to find the lost Franklin expedition ships. The project yielded some new images of uncharted ocean floor and the recovery of a national treasure, the HMS Erebus, but the investment was mostly ceremonial and a chance for Canada to promote its Arctic legacy.
More concrete projects, however, and ones that would enhance Canada's ability to respond to incidents in the Arctic, have not resulted in the same returns as the Franklin find. Canada's only planned deep-water Arctic port, in Nanisivik, remains unbuilt after seven years, having more than doubled in price during that time. Because of the cost inflation it suffered the same rollback in scope as the DeWolf Class ships, being reduced drastically in size, capability and seasonal use to bring it more in line with the original estimate of $100 million (CAD).
That $100 million was meant to buy a jet-capable runway and year-round accommodations. The budget for the new base is more – $116 million – for an improved jetty, a gravel runway, a six-person summer-use-only trailer and a fuel tank capable of holding a year's supply of fuel.
British consultancy POLARISK released a report this month projecting the economic value of the Arctic by 2035. By then, it claims, about a fifth of China's exports will sail through the northern shipping routes. In order to safely support this expanding activity, northern countries are already under increasing pressure to make strategic investments in systems and infrastructure.
Dragging its feet
In April Canada will turn over the chairmanship of the Arctic Council, ending Minister Leona Aglukkaq's reign. Under her watch, the council has made commitments to work with circumpolar communities, and some have said that Canada's greatest contribution has been simply preventing the council from imploding. The most substantial news to come out of the council, however, has been an international deal signed on Arctic marine pollution and oil spill response.
Boosting economic activity in the Arctic comes with risks that Canada may not be prepared for. Ongoing talks between Arctic countries and eager oil developers have indicated there is interest in constructing year-round drilling platforms in the High North, and this past summer saw the first unescorted transit of the Northwest Passage by a cargo vessel.
"[Canada], in most circumstances, can't get to a search-and-rescue incident within two days of it occurring," Byers says. Norway has a year-round helicopter base on Svalbard and even Denmark, with their search-and-rescue foothold in Greenland, is far better prepared to support economic development in the Arctic.
As Canada drags its feet with investing in substantial northern development Russia's influence and gains are only growing. Now, drawing over 20 per cent of it's annual GDP from it's Arctic industries, Russia's north is no longer thought of as a region of frigid exile. This month the Kremlin announced it was establishing a northern ministry that would take over governing responsibilities and keep operations and control firmly in Moscow.
With the threat of a "second Cold War" looming according to some politicians, protecting interests in the Arctic and establishing a presence is becoming a pressing agenda issue – one the Canadian government could be answering tough questions about come next year's election.
"This isn't just about security. It's about opportunity," says Byers. "All of the Arctic countries are doing a better job than Canada."
CORRECTION: The graphic accompanying this article has been corrected from an earlier version. The Arctic population of the Kingdom of Denmark is approximately 100,000 people. Not 57.7 x 100,000 as displayed in the earlier version of the graph. 
-by Emma Jarratt & James Thomson / Barents Observer
Related stories from around the North:
Asia:  Full steam ahead for Asian icebreakers in the Arctic this summer, Blog by Mia Bennett
Canada: Canada's Arctic patrol ships – A $250M mystery, CBC News
Finland: New Finland icebreaker can operate sideways with asymmetrical hull, Yle News
Russia: Russian yard delays delivery of icebreaker, Blog by Mia Bennett
Sweden: Swedish icebreakers gear up for Arctic role, Radio Sweden
United States: U.S. icebreaker fleet will need makeover by about 2020, Coast Guard says, Alaska Dispatch