Nuclear waste cooperation with Russia will continue says Norway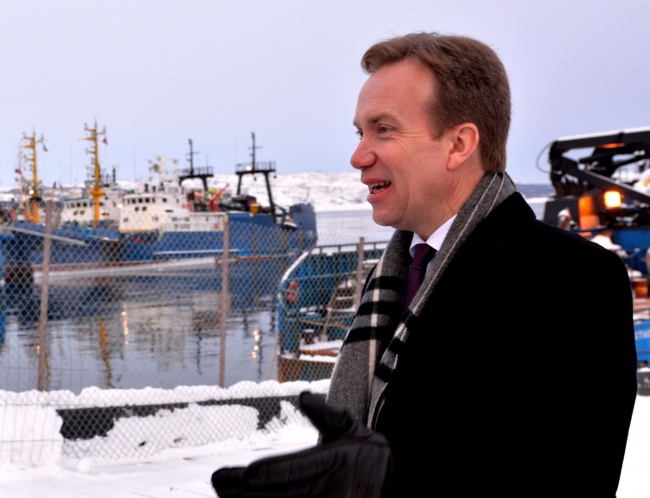 "It is timely to look into what we are going to spend Norwegian money on. Russia must take responsibility," says Norway's Foreign Minister Børge Brende commenting on the increase in radioactive waste to be accumulated as Russia's nuclear submarine construction hit post-Soviet peak.
While foreign countries, including Norway, over the last 20 years have cashed out for scrapping Russia's Cold War fleet of nuclear submarines, Moscow puts its money into building new advanced vessels for underwater warfare.
Right now, around ten nuclear submarines are under construction and another five to six are planned. Over the last year, four brand new advanced nuclear subs are already delivered to Russia's Northern fleet.
One of new, the multipurpose submarine "Severodvinsk" is based in Zapadnaya Litsa, a fjord only 60 kilometer from the border to Norway.
With the three new ballistic missile submarines "Yury Dolgoruky", "Aleksandr Nevsky" and "Vladimir Monomakh" in operation the number of additonal nuclear warheads sailing the Barents Sea have increased by some 200 the last few months.
Cooperation since 1994
Norway and Russia have since 1994 cooperated on securing the radioactive waste and spent nuclear fuel generated from the massive fleet of old nuclear powered submarines based along the coast of the Kola Peninsula during the Cold War.
"It is in our own interest to contribute to the clean-up and safety, like in the Andreeva bay and at Kola nuclear power plant," says Børge Brende to BarentsObserver, and hints that future grants might not be given to waste generated by the new fleet of submarines.
Norway has over the last 20 years granted some NOK 1.5 billion (€175 million) into nuclear safety projects related to the military navy's activities, including decommissioning of four old submarines, development of casks for spent nuclear fuel, radioactive waste management, physical protection of radioactive- and fissile material. In addition, hundreds of millions are granted to civilian nuclear safety projects including Kola nuclear power plant and the nuclear icebreaker fleet in Murmansk.
"It is timely to look into what we are going to spend Norwegian money on. Russia must take responsibility."
Sanctions debated
The Foreign Minister visited Kirkenes for the annual conference focusing on business and cooperation in the border region. EU and Norway's sanctions regime on Russia was debated extensively at the conference.
Last week, rumors hinted that Rosatom could be next on the list if sanctions are expanded to more sectors. Rosatom is Russia's state nuclear corporation, and Norway's main partner in the bi-lateral action plan for nuclear safety.
On Thursday, EU's Foreign Ministers met in Brussels and agreed to extend sanctions following the escalation of the war in Eastern Ukraine. Details of the new economic sanction are likely to be announced at a mid-March EU-Summit.
Norway is not a member of the European Union, but has imposed the same sanctions on Russia since Moscow's annexation of Crimea in March last year.
Asked by BarentsObserver about what consequences it will have for the nuclear safety cooperation if Rosatom ends up on the list of restrictive measures, Børge Brende says it all depends on the developments in Eastern Ukraine.
"So far we have followed EU's restrictive measure. When it comes to the possible new measures will this depend on Russia," says Brende pointing to Putin as the man in key position to stop supporting the separatists in Eastern Ukraine with soldiers, tanks and artillery.
Although Norway is not sitting around the table in Brusseles, Brende has an open dialog on a possible new set of restrictive measures.
"I just got a text message from Frederica Mogherini, the European Union's High Representative for Foreign Affairs and Security Policy," smiles Børge Brende during the interview with BarentsObserver.
"Sanctions was right, is right and has had an effect," the Norwegian Foreign Minister says.
Related stories from around the North:
Canada:  Canada ponders exceptions to relief well rule for Arctic oil drilling, Alaska Dispatch
Finland: Solar and wind power yield cheapest energy say Finnish experts, Yle News
Norway:  Three years on, still no deal on nuclear accident warning for Norway, Barents Observer
Russia: Russia wants Total out of Arctic project, Barents Observer
Sweden: Sweden's environment minister wants nuclear reactors closed; company says no plans to do so, Radio Sweden
United States: Keystone XL – Bad for Alaska Crude?, Alaska Public Radio Network