Finns go wild for the fatbike – perfect for biking in the snow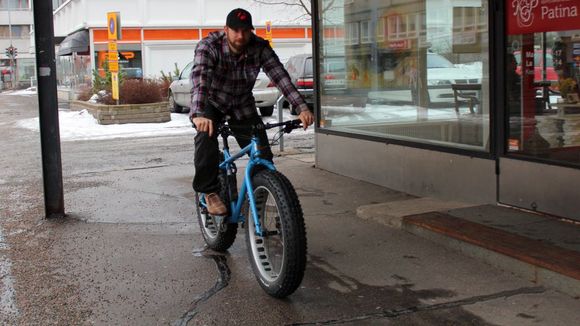 Fatbike hysteria this winter caught Finland's bicycle industry unprepared.
Demand for bikes with over-sized tires exceeded supply, but retailers promise that next season they will have a better selection, which means prices will come down.
A new winter sport is looking to challenge the perennial favourites of cross-country and downhill skiing in Finland. This winter, Finns are snapping up fatbikes like hot cakes and supply can't keep up with demand. Fat bikes are a great recreational option during the winter months, as they are ideal for navigating the ice and snow and communing with nature.
Product Manger Juhani Laakso of the Turku-based bike importing company Huntter says Finland's bike retailers were unprepared for the sudden surge in fatbike sales.
"We kind of got caught with our pants down. This last winter season was probably pretty catastrophic for some retailers, because fatbikes sold like crazy and we couldn't import them fast enough," says   Laakso, whose company supplies the majority of biking and sporting stores in the country.
Is a Jopo fatbike in the works?
Biking's biggest brands have woken up to the retail potential of the promising new product, and Finland's only remaining bicycle manufacturer, Hekama Velox, is considering development of its own domestic model.
"I think we will see more factories start to manufacture fatbike frames, and the selection of rims and tires will also improve. Prices will fall as the range and market grows," says Laakso.
At present, buying a fatbike can put you back anywhere from just under 1000 to 2000 euros. Some cheaper versions are already available for a few hundred euros.
Fatbikes were originally invented in the USA for winter trail riding and racing in sub-arctic Alaska and touring the deserts of New Mexico. They are very versatile bikes, capable of riding on snow, sand, desert, bogs and mud and typical mountain biking terrain. For this reason, they can be used year round in Finland, which is a huge draw.
"It has a high load capacity and a steadfast grip. Of course tire studs are necessary if you'll be biking on the ice, but it is an excellent bike for traversing the snow," says Jouni Kattilakoski, a bike shop owner in the central Finland city of Jyväskylä.
Not the best choice for speed enthusiasts
"But if you are in a hurry to get somewhere, a fatbike is not for you. Fatbikes are for those riders who want to take their time and seek out new adventures," says Kattilakoski.
Importer Juhani Laakso agrees.
"You need to be a nature lover. It's not as sporty as a mountain bike; it's much more relaxed," he says.
Laakso compares a fatbike ride to that of a Harley Davidson motorbike.
"It's all about the special atmosphere, the camaraderie and the beautiful scenery, not speed."
Related stories around the North:
Finland: Gravel used on slippery streets leaves contaminants in spring, Yle News
Greenland:  Greenland circumpolar conference looks at Arctic cities, CBC News
Sweden: The New Kiruna – A meeting place for past and future, Barents Observer