Alaska: Brent Sass kicked out of Iditarod for breaking communications rule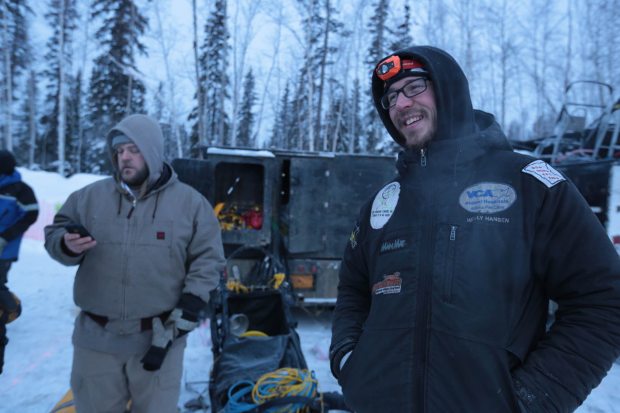 Brent Sass, the winner of last month's Yukon Quest, was disqualified from the Iditarod on Tuesday night for breaking a rule that prohibits mushers from having two-way communication devices.
Sass, a 35-year-old from Eureka, told an Alaska Public Media reporter that he was withdrawn by race officials in Tanana after being seen in Manley with an iPod Touch, a device capable of connecting to the Internet.
"I didn't use it and I had zero intent of using it for a Wi-Fi connection in checkpoints, but I was just completely clueless," he said. "I mean, I gave my dad my cell phone because I knew you couldn't have cell phones in this race specifically, and I was just ignorant."
'Just stupid'
The Iditarod allows mushers to carry one-way emergency devices but two-way devices, including cell phones, are forbidden because of their potential to provide a musher with outside assistance.
"I want my fans to know I was not cheating in any way, shape or form," he told Alaska Public Media. "I was just stupid."
Sass was a top Iditarod contender who won his first Quest title in February. He was running near the lead Tuesday evening, the second day of the 1,000-mile race to Nome.
Sass was the 2012 Rookie of the Year, finishing 13th. He placed 22nd in 2013 and missed last year's race with a head injury suffered in last year's Yukon Quest. He slammed his head on ice after falling off his sled while dozing, an injury that ended his race.
'I let my dogs down'
Sass referenced that incident Tuesday.
"I let my dogs down once again, which is a real bummer. A real bummer," he told Alaska Public Media, his voice filled with emotion. "That, and for my fans and family and friends, it's gut-wrenching."
Race marshal Mark Nordman, who informed Sass that he was out of the race, said it was disappointing to see Sass' race end early. But the rules about two-way communication devices are clear, he said, and they were discussed at the pre-race mushers meeting.
Sass said he brought along the iPod Touch so he could listen to music and watch movies.
"You can use them in the Quest but the rules here are different, and I failed to realize that," he told Alaska Public Media."The Iditarod, they know I wasn't trying to cheat. But it (has) Wi-Fi and I could potentially be using Wi-Fi at checkpoints where they have Wi-Fi.
"…There's nothing I can say — it's the rule."
Related stories from around the North:
Canada: Warmth, lack of snow in Yukon threatens winter events, Radio Canada International
Norway: Finnmarksløpet 2015 dog sledge race underway in Europe, Barents Observer
United States: Alaska – Fairbanks snowstorm a blessing for snow-starved Iditarod, Alaska Dispatch News