NOAA, Coast Guard team up to re-survey Arctic waters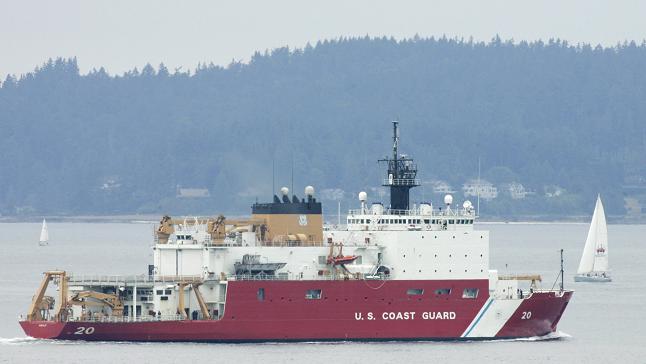 As Arctic commerce heats up, more ships are expected to pass by the Aleutian Islands, through the Bering Strait and north into the Chukchi Sea.
The U.S. Coast Guard, which is assessing a possible designated Arctic shipping route in those waters, has teamed up with the National Oceanic and Atmospheric Administration to improve navigational knowledge about that region.
For NOAA, that means using the Coast Guard's help to update navigational charts that date back as far as a century ago.
"Much of our charting data in this corridor is from surveys conducted a hundred years ago," Rear Admiral Gerd Glang, director of NOAA's Office of Coast Survey, said in a statement. "So right now, we need to conduct reconnaissance of the seafloor in high traffic areas to make sure they are safe for navigation."
 Second season of data gathering
The Office of Coast Survey — a NOAA agency that dates back to the time when Thomas Jefferson was president — will be sending two of its research ships, the Fairweather and the Rainier, to join the Coast Guard icebreaker Healy in waters off Alaska this summer for a second season of data gathering, agency officials said Tuesday.
The three ships were in the area last year measuring depths and searching for underwater hazards like seamounts. That work will continue this summer, with a special focus on certain tasks: hydrographic surveys in Kotzebue Sound, which is still largely uncharted, surveys of a potential shoal area off Point Hope and surveys of the Port Clarence area in the Bering Strait, a possible deepwater port site, NOAA said. A private contractor is also participating and will be supplying another ship, NOAA said.
In all, the project is expected to collect about 12,000 nautical miles of data in a four-mile-wide corridor along the potential Arctic shipping route, NOAA said.
Improved navigational mapping in Arctic waters off Alaska has been a key NOAA goal in recent years. Most of the past charting of Arctic waters was done with 19th-century technology, and even the newer charting of Alaska's northern and western coasts dates back to the 1960s, according to NOAA.
Related stories from around the North:
Canada:  Supply barge adrift in the Arctic for months, Radio Canada International
China: China's silk road plans could challenge Northern Sea Route, Blog by Mia Bennett
Finland: New Finland icebreaker can operate sideways with asymmetrical hull, Yle News
Greenland:  Greenland, Alaska elections bolster Arctic resource extraction, Blog by Mia Bennett
Russia: Seismic mapping of Russian Arctic will continue — Rosneft, Barents Observer
Sweden:  New infrastructure needed to keep wild boars off Sweden's roads, Radio Sweden
United States:  Time to ramp up Arctic infrastructure in the U.S., Analysis: Sourabh Gupta & Dr. Ashok K. Roy