Divisions in Alaska community over proposed liquor store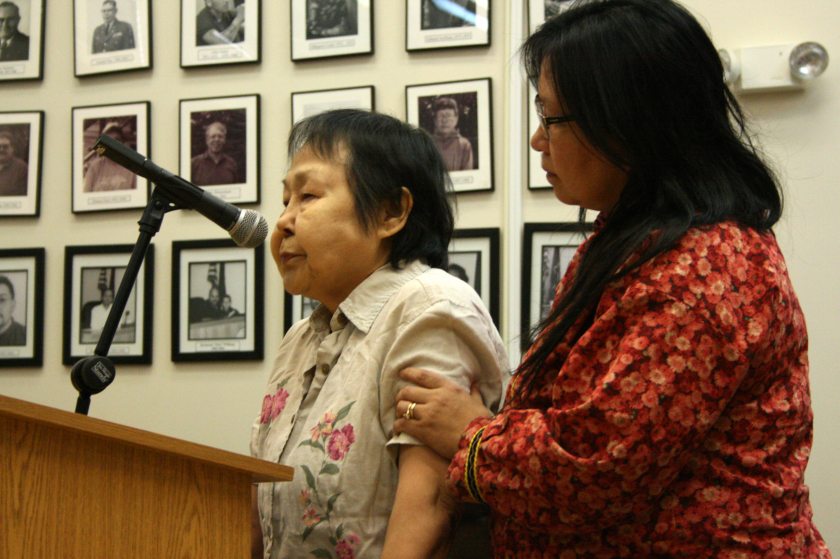 BETHEL – An emotional conflict over alcohol in a Western Alaska hub that's gone back and forth for more than 50 years is erupting anew, pitting those who fear a proposed liquor store will only bring more death and dysfunction against those who say the problem is already here and who want to give legal sales a fresh chance.
The fight came Tuesday night to the Bethel City Council, which turned much of its regular meeting into a forum that, in two parts, stretched more than four hours on the anticipated liquor store proposal by Bethel Native Corp. The village corporation is regrouping after Swanson's grocery store, the anchor tenant in its new $20 million complex, went out of business earlier this month.
Meanwhile, the remaining big grocer in town, Alaska Commercial Co., also is seeking to open a liquor store, some of those who testified said. AC officials did not return a call.
Most who spoke up urged the City Council to protest the liquor license when it comes before the state Alcoholic Beverage Control Board, a step that usually would lead the state to deny a license application. Teachers and pastors, elders and business leaders, a retired pilot for the Alaska State Troopers and leaders of prominent organizations were among those who urged the City Council to take a stand.
They talked of the risk to villagers who travel on the Kuskokwim River or across the tundra. Some shareholders of Bethel Native Corp. said they were ashamed their corporation wants to sell liquor because of a financial crunch. They remembered the ones who have died, cousins and brothers, uncles and friends, mothers and fathers. They worried for nearby dry villages.
But a few stood up for a new way. Others recommended the council hold an advisory vote to better gauge the will of the people. But there's not time to do that on what seems to be a fast-track liquor application, said city clerk Lori Strickler.
Just a handful of people usually attend City Council meetings, but the mere prospect of legal liquor sales drew an overflow crowd. More than 50 people packed the council chambers, others listened in the lobby and countless more followed the testimony on public radio station KYUK's live stream.
"The problem of alcohol did not go away in 1973 when we closed the liquor store and we closed the bars," said Bev Hoffman, a community leader and former City Council member. People are still getting alcohol – from bootleggers, she said. The city could impose rules on a liquor store that would improve safety, she said.
"We all know that millions are spent at Gold Rush, Brown Jug, Party Time," she said, naming some Anchorage stores that ship to the Bush. "Bootleggers. And the dollars will stay in their pockets."
The issue of whether to allow sales, possession or no alcohol at all has ripped through Bethel since 1960, when a ballot measure to allow sales failed. Three years later another measure passed and the city opened a liquor store, according to timeline created by a previous city clerk titled "An historical look at Bethel's booze initiatives." But it soon was shut down and the matter keeps coming up at the ballot box.
"What I want most is for the community to be at peace," Eric Middleton, a former Bethel mayor, testified Tuesday.
Unique Situation
Since 2009, Bethel has lived under a unique system. The community is officially "wet." But in January 2010, just three months after voters approved a change from "damp" to wet, legalizing alcohol sales for sellers with a license, city voters in an advisory election rejected five configurations for sales, saying "no" most strongly to bars, which failed 570-217, but also narrowly opposing the prospect of a city-owned liquor store, 438-335.
And that's where the matter has sat, a sort of uneasy truce between those damaged by alcohol and people who want to drink without the state's watchful eye tabulating Bush orders, as is required for damp communities.
Ana Hoffman, president and chief executive of Bethel Native Corp., told the City Council on Tuesday its new business, Bethel Spirits, would operate on the second floor of Kipusvik, its retail complex. Its footprint of 2,900 square feet counting storage space would be small, "less than 1 percent of the overall facility," she said.
Hoffman has declined interviews on what happened to Swanson's and on its liquor store proposal. The statement she read Tuesday provided the most information to date on BNC's plans. She reminded the council the village corporation has been investing and building in Bethel for four decades.
BNC still is looking for a retailer to lease its state-of-the-art grocery store space across from the hospital but "there is no tenant ready to take over at this time," Hoffman said.
"There is also an opportunity to substantially upgrade the services in that facility," Hoffman said – referring to the liquor store. She noted it would allow the city to charge its 6 percent sales tax on liquor sales.
The current situation perpetuates illegal sales "and continuing to ignore that reality helps no one," she said.
But she was up against powerful and heart-wrenching opposition. The Association of Village Council Presidents and the Yukon-Kuskokwim Health Corp. are against it. Individuals testified of the damage they've experienced.
'You can have better control'
Olinka Nicolai's whole body shook when she stepped up to testify, the remnants of damage from drinking, she said.
"I have had alcohol up to my ears," she said. "That's why I'm deteriorated, my body's deteriorated."
She said she drank for 25 years.
Darlene Mojin spoke of neglected children, mentioning a third-grader unable to function at school who explained: "I'm tired because my parents were drunk last night."
Mojin, now 60, said she was 17 when her mother was killed by a drunken driver.
As she sees it, Bethel Native Corp. is "grasping for money" and she is aghast.
Martha Larson told the council that she and her husband don't drink. They took care of foster children and adopted a boy who froze to death one Christmas Eve at age 21 "because of alcohol," she said.
Bob White, who has served in Bethel as a pastor and has run a youth camp, said he wouldn't want to be a cop in Bethel but intervenes to protect people.
"I've stopped rapes over on Mission Road. Along the river in the summer, I've stopped people from jumping to their deaths because they are so drunk, they think they are going to go swimming from the top of the seawall," White said.
He said he sees the pain of broken children.
"If we have a store we are going to go into upheaval," he said. "We are going to go to battle over this."
One of the few young people who spoke was Nikki Hoffman, 24, and a mother of two who is a Bethel Native Corp. shareholder. She said she applauded the village corporation's initiative and urged the City Council to be open-minded and objective.
"It's not us against them. This is us. This is our community," Nikki Hoffman said.
Bethel Mayor Rick Robb works as director of residential services for the Yukon-Kuskokwim Health Corp., overseeing seven treatment programs and group homes. But he said he believes legal sales would be better for Bethel.
"You can reduce the harm. You can have better control. You can drastically reduce bootlegging. You can not sell to people who aren't supposed to buy," Robb said.
People who support sales may simply be less likely to speak up in a public meeting than those against it, he said
The City Council – with no proposal yet before it – took no action Tuesday. Council member Zach Fansler proposed a town hall meeting to give more people a chance to speak. The council agreed to look into that.
Ana Hoffman said Bethel Native Corp. would submit its application for a package store license in early April.